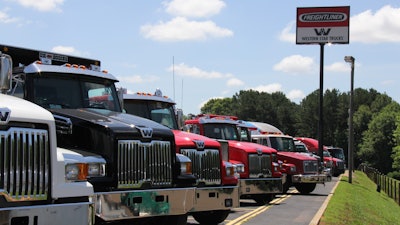 Few truck dealers draw interest like Peach State Truck Centers.
With 13 locations across Georgia and Alabama, the dealer's footprint is clearly rooted in the southeast. Yet with national fleet accounts ordering Freightliner trucks just to partner with the dealer group and a corporate leadership team literally sourced from the across the nation, it's clear Peach State Truck Centers is a brand in demand.
The company likes it that way. Trucking may be an industry filled with choice, but once people choose Peach State, they rarely ever want to be anywhere else.
"We've always tried to position ourselves as a dealer of choice for anyone thinking about purchasing a commercial truck," says Rick Reynolds, president, CEO and dealer principal, "but we also want to be an employer of choice.
"Great cultures attract great people. We know if we have a great team serving our customers that we will succeed and our customers will succeed," Reynolds adds.
Named a finalist for the Successful Dealer Award for the second time in five years, Peach State Truck Centers' success is no longer up for debate.
The company now known as Peach State was founded by Rick's father Tom Reynolds as a Ford commercial truck dealership in suburban Atlanta in 1974. The business grew steadily for decades, strategically expanding its footprint as its customer base increased. Eventually the business was approached by Daimler to enter the Freightliner marketplace in 2007 and it hasn't looked back.
[RELATED: The 'whatever it takes' attitude that drives success for Thompson Truck & Trailer]
Over the last 15 years Peach State has grown from four to 13 locations and now has more than 700 associates. Rick Reynolds was named ATD's Dealer of the Year in 2018, and today the company is regularly recognized by Freightliner as one of its strongest dealer partners.
Reynolds gives his workforce credit for all of it, including this year's Successful Dealer Award nomination.
"When I received the ATD award I said there were 660 sets of fingerprints on that trophy," he says, referencing the company's workforce at the time. "That's how I feel about this as well. It's an honor, but it's one we all share."
Peach State's consultative and collaborative approach toward customer service has a lot to do with its continued success.
Reynolds and his leadership team have worked hard to develop an internal culture that motivates employees to be engaged and rewards them for their commitment to the business. Additionally, associates are encouraged to nurture relationships with their customers because the more Peach State understands a customer's operation — and where the dealer group fits within it — the more attuned the dealer can be to respond to customer requests.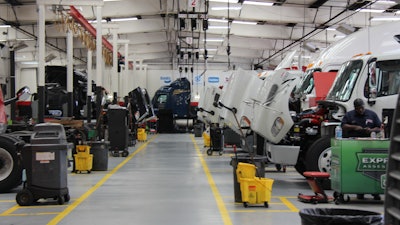 Chief Operating Officer Greg Althardt puts it like this: "We want to be an extension of their business. That's our entire value proposition. We want to make an emotional connection with all the people we do business with and make it clear to them we are there to support them in any way we can."
Althardt admits such unimpeachable customer service requires investment, but the dealership doesn't hesitate to devote resources to make its business stronger. Peach State recently completed a year-long transition to a new dealer management system Althardt says was essential for the business as it continues to expand.
"We have a very sophisticated business and to be the best and continue to be the best we have to use the best tools available to us," he says. "Our people put so much hard work into our business; our DMS needs to support their commitment."
[RELATED: Check out the other finalists for the 2022 Successful Dealer Award]
And Peach State employees recognize how much they are valued. As the dealer has added locations over the year, new employees often become reinvigorated in their work once exposed to the dealership's supportive, encouraging culture. Reynolds says word of mouth has become Peach State's best recruiting tool (though the company also invests in marketing and has HR recruiting professionals to help strengthen the company's team).
Althardt and new Chief Financial Officer Greg Fenn are prime examples of how Peach State's reputation continues to drive its success. Both men were exposed to Peach State while in the dealer consulting world and were so impressed by the company's direction, culture and philosophy that they moved their families to Georgia to be a part of it.
"I uprooted my family almost 10 years ago because I saw what Rick was doing in this business," says Althardt.
Adds Fenn, who recently moved to Georgia from Washington state, "I remember being introduced to Peach State in my last role. After seeing how the company operated, I thought about it often. I've worked with hundreds of dealers but I've never seen one like Peach State."
The 2022 Successful Dealer Award is sponsored by Automann, Interstate Billing, Karmak, National Truck Protection and Premium 2000. The 2022 Successful Dealer Award will be presented in October at a private awards banquet in Nashville.