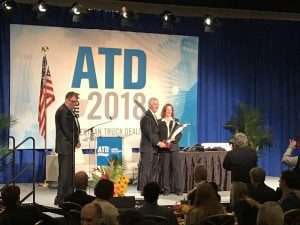 Richard Reynolds, president and dealer principal at Peach State Truck Centers, was named the 2018 American Truck Dealer (ATD) Dealer of the Year Friday at ATD Show 2018 in Las Vegas.
Reynolds entered the dealer channel in 1995 after beginning his professional career in the accounting industry. He graduated from ATD's Dealer Academy in 1996, and spent the next decade rising through the company's ranks to become dealer principal in 2007. Under his leadership, Peach State Truck Centers has grown into a 11-location in Georgia and Alabama dealer representing Freightliner, Western Star, Mitsubishi Fuso, Thomas Built Buses, Ford, Sprinter and Autocar.
In accepting his award Friday, Reynolds was gracious, thanking the dealer channel and Peach State Truck Centers' more than 600 employees for allowing him to be in position for such an award.
"This is very humbling for me, my family and the employees at Peach State Truck Centers," he says. "To the OEMs we represent, I owe a deep gratitude to you for allowing us to represent you. To our employees, this is an individual award but it would be foolish for me to accept it individually."
Reynolds also thanked his father and brother, both of whom are recently deceased, for their guidance and cooperation in helping to lead their family business. He says their "friendship and love is what is represented" in Peach State's business today.
John Arscott, CEO of The Pete Store in Baltimore, Md., was named Finalist and runner-up for this year's award. Arscott's business operates 15 dealership locations in seven states. The ATD Dealer of the Year award is sponsored by ATD, Heavy Duty Trucking and Procede Software.
The other nominees were Joseph Alosa, Sr., president and CEO of New England Kenworth in Concord, N.H.; Mark Bergey, president of Bergey's Truck Centers in Souderton, Pa.; Jon Vandehey, president/CEO of Mid-State Truck Service in Marshfield, Wis.; Lee White, II, president of Old River Companies in South Richland, Miss.; and Craig Young, president of Young Truck Sales in Canton, Ohio.
ATD says nominees were selected by ATD board members and dealer association executives. Professors from Indiana University's Kelley School of Business in Bloomington, Ind., evaluate the nominees based on dealership performance, industry leadership, civic contributions and community service to help select a winner.
ATD outgoing chair pushes for excise tax repeal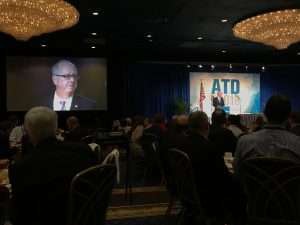 During Friday's ATD Show 2018 industry luncheon outgoing ATD Chairman Steve Parker of Baltimore Potomac Truck Centers also urged the nation's commercial truck dealers to work with their members of Congress to repeal the "outdated and harmful" federal excise tax on the sale of heavy-duty trucks and trailers.
"I urge you to continue reaching out to your federal legislators. Host your elected officials at your dealership. Let them meet your employees," Parker says. "We were prepared to handle the onslaught of changes last year because we had solid grassroots."
Parker, who served two years as chairman, highlighted several of ATD's recent accomplishments on Capitol Hill, such as a tax cut for pass-through entities, maintaining the LIFO inventory accounting method and doubling the exemption on the estate tax, but added that "poisonous taxes, like the federal excise tax, are still here."
"ATD supported new legislation, H.R. 2946, which would eliminate the archaic federal excise tax altogether," says Parker, whose Baltimore Potomac Truck Centers operates five full-service Mack, Volvo and Hino Truck dealerships in Maryland and Virginia. "And although we haven't crossed the finish line yet, truck dealers across the nation are united on this issue."
The bill, introduced by Rep. Doug LaMalfa (R-Calif.), currently has 15 bipartisan co-sponsors.
Parker also adds that over the past two years ATD has continued to grow in several departments across the association — from adding more ATD 20 Group moderators, expanding its truck-related economic research and data and commissioning a new landmark study, Commercial Truck Dealer Future Landscape.
"Because we've tackled the changing truck dealer landscape head-on – despite rapidly evolving times – we will continue to make headway on new issues like highly-automated vehicles, electric vehicle legislation and the changing truck dealer role," he says.