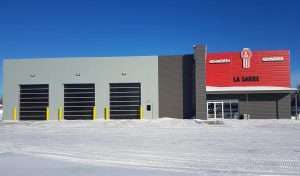 Kenworth La Sarre has relocated to a new and larger 12,000 sq.-ft. facility to enhance its support of truck operators and fleets in the mining, timber and agricultural industries in northwestern Quebec.
Located on 5.7 acres near its previous site, Kenworth La Sarre offers plenty of room for drivers to park and maneuver their trucks. The dealership's 5,200 sq.-ft. parts warehouse and 800 square feet of parts display help keep vocational truck fleets well-stocked with parts in the remote Abitibi-Ouest Region. A six-bay service department offers truck diagnosis within two hours through Kenworth PremierCare ExpressLane, according to an announcement.
Kenworth La Sarre is affiliated with Kenworth Val d'Or and Kenworth dealer Centre du Camion in Amos, which built a new 37,000 sq.-ft. dealership three years ago.