This is Part III of Successful Dealer's four-part report on the state of the dealer market. To read Part II, please CLICK HERE.
In looking ahead, there are major opportunities and challenges on the horizon for the dealer channel. The success of 2017 and positive returns in January show reasons to be optimistic for business this year. Beyond that, the market wears a veil of uncertainty. Change is on its way.
Opportunities
Two of the biggest opportunities materializing in the dealer channel today are found in parts and service.
One is the burgeoning world of e-commerce. As more and more customers grow comfortable with making purchases online, dealers are uniquely positioned as the only sources on the Internet for proprietary OEM parts. For customers who know exactly what they need, online accessibility will soon be the top priority in purchasing decisions.
Daimler Trucks North America (DTNA) recently opened new parts distribution centers in Dallas, Indianapolis and Des Moines, Iowa, to further support its dealer network in this area, says John Finn, director of aftermarket marketing.
"The world is evolving. Logistics and supply chain is becoming a differentiator," he says.
Dealers are saying the same. Steve Brent, general manager at Inland Kenworth, says his company's online parts counter was one of its biggest growth areas in 2017 as more customers turned to the simplicity of an online portal to make stock orders and basic purchases.
"The new generation isn't going to know all of the part numbers like older generations did," says Carlos Junquera, Navistar vice president of parts sales for the U.S. and Canada. "They are going to go online and expect the computer to spit out the information for them."
Yet, as lucrative as a strong e-commerce site may be, its potential is dwarfed when compared to remote diagnostics. The ability to monitor customer's vehicles, proactively and immediately alert them to maintenance needs and connect them with dealers available and capable of managing their service is a game changer.
"I think what the OEMs are doing in using connectivity to diagnose issues and provide repair instructions for customers could be huge for all of us," says Richard Lewis, vice president of parts operations at Lewis International.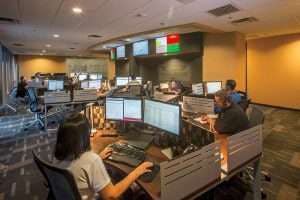 "When customers come to us, we aren't just selling them the truck or selling them parts, we are selling them a solution," says Rusty Rush, president, chairman and CEO at Rush Enterprises.
"As communication and integration between dealers, customers and OEMs become more interlinked, those dependencies become tighter and, hopefully, customers come to value our technology and our information to keep them up and running."
Finn says DTNA wants a similar relationship between its dealer network and end users. He says the company's goal for each customer interaction with a dealer is to "become less transactional. We want that customer to walk away and say 'DTNA is my solution for my business.'"
Challenges
With such potential in the parts and service space, the growing technician shortage continues to be the biggest nightmare for the dealer channel. From northern Canada to Miami and San Diego, everyone needs technicians.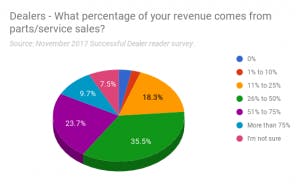 "We consider our technicians our most valuable asset, so it's really difficult for us when we lose one or can't find one," says Jerry Kocan, dealer principal at Four Star Freightliner. "Those guys make our business what it is."
At Motor Power Equipment, Vice President Brian Sunwall says the technician shortage lingers across his service bays at all times. Sunwall says he tries to recruit talent and staff his locations as best as he can but, in today's solution-driven service channel, "whoever figures out how to keep the technicians in the bay is going to win."
According to a November 2017 Successful Dealer reader survey, labor availability trailed only competition from other dealers as the biggest business concern facing dealers today. Turnover has infused youth into the market — nearly 85 percent of dealers say the average age of their techs are between 31 and 45 — but open positions are everywhere.
Over the last decade, Four Star Freightliner has developed working relationships with multiple diesel technician programs and is working to spread the word about trucking's employment shortage at other schools throughout its coverage area. Kocan says most vo-tech schools offer automotive programs, but diesel tech programs are harder to find.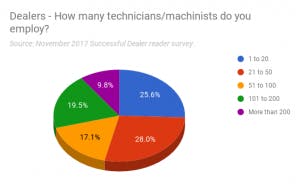 "We're trying to get out there and help them establish those programs," he says.
The talent pool is another issue in the search for techs. It's easier to find capable help in a city than in more isolated rural areas, says Worldwide Equipment COO Scott Blevins.
Rush Truck Centers averages more than 100 technician openings at any given time, and like many works with local, regional and national tech schools to support their programs and leverage as a source of talent. COO Mike McRoberts adds that once a new tech comes on board, Rush invests heavily in training, and a frequent review process to keep them advancing and on the Rush team. Employee loyalty doesn't eliminate turnover, but it sure helps, he says.
But training is easier said than done, says Ian Coburn with GPA Training, and not because it isn't available. It's hard for dealers to know what direction is best. Coburn says he advises his dealer clients to first prioritize the areas of their operation they most want to improve as a method of filtering training programs and to jump at the right course when it appears.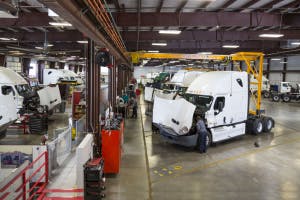 "You don't want to ever put it off," he says. "When we put off training we're only delaying our own success and ability to help our people and customers."
Finally, though not quite a challenge, another concern percolating through the dealer marketplace is the entrance of new truck makers in the North American marketplace. Particularly the ones claiming they won't require a dealer network at all.
"The electric vehicle is not my concern. My concern is the vehicle that will require no dealer or [parts] distributor," says Blevins. "How will we position our businesses against that?"
"We do have to think about these new entrants" to the market, adds Ray Addison, DTNA department manager of aftermarket marketing and communications. "We have to think about the continued growth and sustainability of our business and that of our dealers and customers."
This is Part III of Successful Dealer's four-part report on the state of the dealer market. Part IV can be found here.