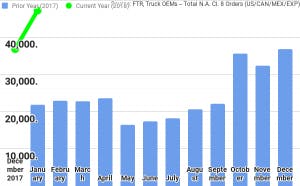 FTR reported Monday preliminary North American Class 8 orders at 47,200 units, up 28 percent month-over-month and 116 percent year-over-year, right in line with ACT Research's preliminary data from Friday.
FTR reports January's strong orders surpassed even the strong Q4 2014 activity and were only lower than the orders from early 2006. FTR states the North American equipment market continues to strengthen as we move into 2018. North American Class 8 orders for the past 12 months have now totaled 316,000 units.
"Order for heavy-duty trucks surged to start 2018. These levels were well above our already strong expectations and continue to indicate that the equipment markets are still reacting to the tight capacity in the truck marketplace," says Jonathan Starks, chief operating officer at FTR.
"January is normally a seasonally weaker month, except when the market is on a clear upswing. Capacity continues to remain historically tight and truckers are taking advantage of the opportunity with spot rates on the Truckstop.com load board up 30 percent year-over-year in January. Near-record levels can't last for long, but orders could stay quite elevated throughout the spring."​
FTR says its final data for January will be available in the month as part of its North American Commercial Truck & Trailer Outlook service.