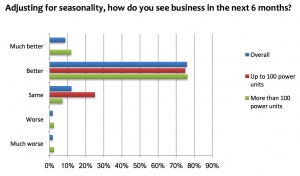 Fleet size is on the rise. At least that's what fleets are claiming, CCJ reported last week in releasing the results of its November 2017 MarketPulse industry survey.
For those who don't know, CCJ's MarketPulse survey is sent each month to 200 senior fleet executives. The execs all represent carriers with at least 10 power units, and the executive list is static unless members request changes. The survey itself is designed to provide "directional assessment of market conditions by polling a relatively stable panel of respondents each month."
According to last week's release, it appears market conditions are resoundingly positive. Nearly 85 percent of responders to November's survey are forecasting business condition improvements through the early months of 2018, and carrier sentiment of business in November was up significantly month-over-month and year-over-year.
Such optimism has also started spilling into fleet decision making, and, if CCJ's responders are to be believed, it looks like a bullish truck sales market is about to get even stronger.
Nearly 69 percent of MarketPulse responders claim they plan to add full-time employees in the next six months, and among that same group 51 percent hope to increase the size of their fleet during the same period.
While a majority of that expansion comes from the larger fleets polled (59.5 percent of carriers with more than 100 power units plan to grow, compared to just 31.2 percent of fleets with up to 100 units), the number of fleets reducing size is barely five percent.
And it's not as if the small fleets are sitting still. Exactly half of MarketPulse responders with less than 100 power units are planning to replace aging equipment in the immediate future, which balloons the total number of fleets planning to buy trucks to 81.2 percent for fleets with less than 100 units, and 88.1 percent among fleets with more than 100 units.
This demand data tracks with what we in the dealer market have been hearing for some time.
The new truck market continues to roll, with huge month-over-month gains and incredible optimism entering 2018. The used truck market – stagnant for so long in 2016 and 2017 – also finally kicked into gear in the latter half of last year.
At November's Used Truck Association (UTA) Annual Convention, Steve Tam, vice president at ACT Research, said the glut of used trucks that had been suppressing prices for ages was finally starting to thaw. Inventory levels were (and are) still high, but the market had finally acclimated to that status. The result was finally a pricing floor.
"There's reason to believe we've found the balance for these trucks," Tam said at the UTA Convention.
And while nothing great ever lasts forever, it is reassuring to see today's good vibes aren't going away too soon.