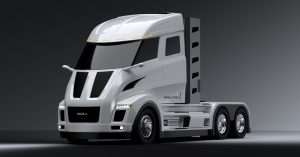 WABCO Holdings, Inc., has invested $10 million for a 1 percent equity stake in Nikola Motor Company, which designs and manufactures electric vehicles, vehicle components, energy storage systems and electric vehicle drivetrains.
WABCO, a Brussels-based technology and service provider for commercial vehicles, says the investment demonstrates its commitment to furthering the development of electric and highly automated commercial vehicles. WABCO and Salt Lake City-based Nikola also signed an agreement to accelerate the development of safety technologies specifically designed for electric commercial vehicles, including electronic braking systems and traction and stability control technologies.
"We are excited to invest in Nikola Motor Company to help the industry realize our joint vision of electrified and autonomous trucks, buses, trailers and off-highway vehicles," says Jacques Esculier, WABCO chairman and CEO.
Nikola says it plans to begin testing its zero-emission trucks with commercial vehicle fleets in late 2018 and launch full production in 2021.
"We have added a world-class supplier to the Nikola truck family and are looking forward to our collaboration to bring Nikola's zero-emission trucks to market," says Trevor Milton, Nikola founder and CEO.