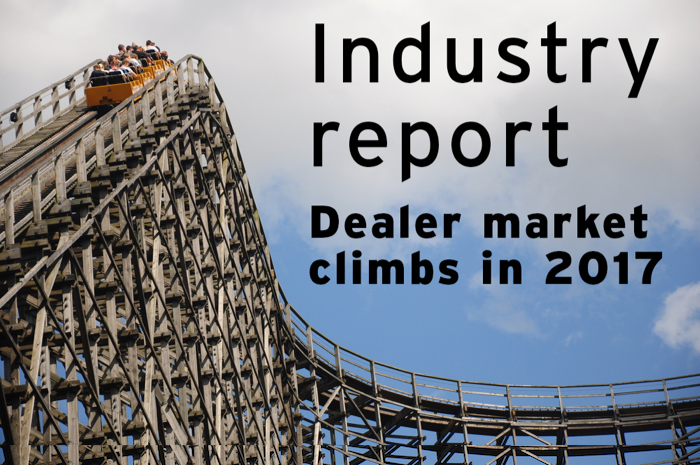 In an industry as cyclical as trucking, the only certainty is change. Good times come and go and bad stretches — though they can sometimes seem endless — are never here to stay. The rollercoaster is the norm, and once you get used to the falls, there's reassurance in knowing the next climb is right around the corner.
For the medium- and heavy-duty dealer market, that climb returned in 2017.
After a bumpy, uneven ride the previous year, the North American dealer market enjoyed a substantial turnaround in 2017. From the nearly immediate rebounds of the new truck and parts markets to the slow, steady pricing stabilization in the used truck marketplace, last year was one of recovery and growth.
"I think we were hopeful going into the year" that a recovery was forthcoming, says Jerry Kocan, dealer principal at Four Star Freightliner. "We were expecting good things and it turned out to a be very, very good year. Better than we even anticipated at the start of the year."
"It took a while, but I think we ended up where we wanted to be and where we projected ourselves to be," says McCoy Freightliner General Manager John Schmitz.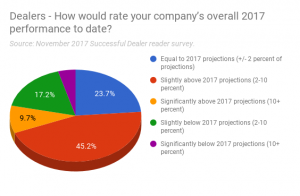 Projecting and aiming for year-over-year growth is every company's goal, but after watching new truck orders and used truck pricing crater in 2016, expecting a market correction for 2017 wasn't a sure thing last January.
The 2014/2015 order boom meant most large fleets weren't yet in need of new equipment, and unremarkable truck tonnage rates during the latter half of 2016 left utilization rates unchanged. Though when comparing late 2016 to the overall pace of the U.S. economy this decade, there's reason to believe now that period of stagnation had more to do with election uncertainty than any major flaws in the business climate. Coupled with a revitalization of the North American energy sector, industry boomed in 2017.
"There were a lot of companies in our area that were hanging on to trucks and just letting them sit" for most of 2016, says Vice President Brian Sunwall, whose Billings, Mont.-based Motor Power Equipment serves the natural gas industry in the eastern part of the state. Sunwall says after down years with those customers in 2015 and 2016, Motor Power Equipment noticed energy business creeping back quickly in 2017 with an influx of parts and service requests.
In that area, Motor Power Equipment wasn't alone. Aftermarket part sales in the OES and independent channels both exceeded expectations last year and, between the two, MacKay & Company data shows the dealer channel had the stronger year.
"We had our second highest year of profitability ever" in parts sales, says Mark Reiter, vice president of global product support at Navistar.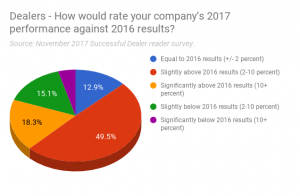 Industry helped kick start business in other markets as well. As construction boomed in Phoenix so, too, did vocational vehicle sales at Inland Kenworth, says New Truck Sales Manager Don Blake. "We saw that market really come on strong for us toward the end of 2017," he says. "You could see the confidence come back into the marketplace."
Successful Dealer readers agree. According to a November 2017 reader survey, 67.7 percent of dealers pegged 2017 as at least 2 percent stronger than 2016, with 54.4 percent also noting 2017 surpassed expectations by at least 2 percent. OEM responders felt the same, as 72.5 percent marked 2017 as stronger than 2016, and 56.7 percent said last year was at least 2 percent above expectations.
Those sentiments mirror industry data, which indicates confidence appeared almost immediately after the 2016 election.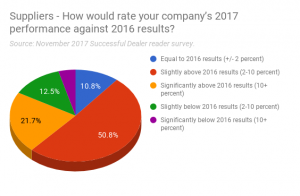 ACT Research announced in December 2016 that November was the first monthly year-over-year order improvement in 22 months, and two months later both ACT and FTR reported the highest monthly order total in more than a year. Things would only get better from there. By June, production was at an 18-month high, and by the fourth quarter last year the market was averaging more than 30,000 orders per month.
"I think the market was better than anyone anticipated," says Rusty Rush, president, chairman and CEO at Rush Enterprises. "We went into the year thinking things were going to pick up and they certainly did."
Last year's growth even spurred a light reset in the used truck market where, after years of watching excess supply torpedo prices and vehicle values, second-half demand spikes finally stabilized a pricing floor.
"Our used truck business was better than it had been in a long, long time," says Scott Blevins, COO at Worldwide Equipment.
"It seemed like we corrected the inventory issues we had been dealing with there," adds Kocan. "Pricing seemed to regulate a little bit."
This is Part I of Successful Dealer's four-part report on the state of the dealer market. Part II can be found here.