This is Part II of Successful Dealer's four-part report on the state of the dealer market. To read Part I, please CLICK HERE. 
Sales totals weren't the only numbers growing in the dealer market last year. According to data from a November 2017 Successful Dealer Reader Survey, relationships between OEMs, dealers and their customers also are on the upswing as more within the dealer channel commit to the solutions provider and partnership customer service model.
"Generally speaking, I think the franchisee/franchisor relationship is one that can have its challenges, but the quality of the relationship with our dealer network is at an all-time high," says Ray Addison, department manager of aftermarket marketing and communications at Daimler Trucks North America (DTNA). "We both know that only collectively can we succeed and everything we are doing right now takes that to heart."
McCoy Freightliner General Manager John Schmitz agrees, noting his company's relationship with DTNA has "improved greatly" in recent years as the truck maker introduces new vehicle and support technology to increase uptime.
Dealer and OEM relationships are strong for other brands, too.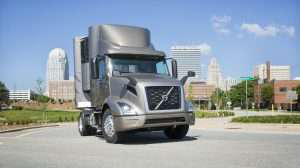 Volvo Trucks North America Senior Vice President Bruce Kurtt says enhancements to Volvo's new vehicle offering are spurring huge growth opportunities for its dealers and greatly improving collaboration between the two parties.
At Navistar, dealer attitude scores have reached their highest points in many years, with "across the board" improvements from 2016 to 2017, says Vice President of Global Product Support Mark Reiter. "We have spent a lot of time recently working on how we can improve customer uptime, and those ideas have come from us and our dealers," he says.
This anecdotal evidence is confirmed by Successful Dealer's survey, where one-third of dealers and 40 percent of OEMs report their relationships with each other improved in 2017. Additionally, 57 percent of dealers and 55 percent of OEMs say those same relationships are stable, meaning only 9.7 percent (of dealers) and 5 percent (of OEMs) saw erosion within their partnerships last year.
"[The OEMs] are listening to what we are saying about what the customers want," says Richard Lewis, vice president of parts operations at Lewis International.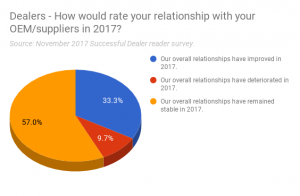 And, thanks to these strengthening partnerships and the financial investments complementing them, OEM and dealer relationships with end users also are on the upswing. Almost 95 percent of dealers responding to Successful Dealer's November survey rated their relationship with end user customers as stable or have improved in 2017; OEMs were a tick higher at 95.8 percent.
Kenworth Director of Marketing Kurt Swihart says Kenworth dealers invested more than $150 million in facilities last year, while the OEM continues to enhance its PremierCare Certified Gold program to give those dealer partners an asset to promote in the marketplace.
"Thousands of customers have enjoyed Kenworth's highest standard of dealer support since we launched Kenworth's PremierCare Gold Certified program two years ago," Swihart says. "Our stringent Gold Certified requirements have helped to further maximize uptime for truck fleets and operators, and strengthen the Kenworth dealer/customer relationship in 2018."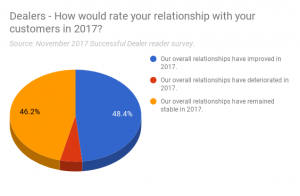 "We see a lot of common themes [coming] from our OEMs today, and uptime continues to be at the forefront," adds Worldwide Equipment COO Scott Blevins, whose company sells Kenworth, Mack, Volvo, International, Hino, Isuzu and IC Bus. Blevins says each OEM has its own unique take on delivering uptime but, for the most part, each truck maker is on the same general track toward total customer satisfaction. He says Worldwide Equipment appreciates such uniformity, as it allows the dealership to go to market with comprehensive solutions for every truck on the road.
Another OEM initiative that is strengthening relationships throughout the supply chain and with end user customers is training. As truck makers continue to unveil technology to improve productivity for dealers and vehicle owners, they also are introducing in-person and online training materials to quickly bring users up to speed and increase market adoption.
Kurtt says Volvo Trucks North America hosted dealers and customers together throughout 2017 to showcase its new regional and long-haul truck models. Organized to ensure dealers would attend with their customers, Kurtt says the event proved to be a huge success.
"They got to touch, feel and drive everything so they could really understand why we designed the trucks the way we did," he says. "Then as soon as they got home we saw them start placing orders."
Soft skills training is making a difference as well. Addison says DTNA is "leveraging professional trainers to educate [dealers] on products, selling skills and enhancing the customer experience," while Kenworth has packed its website with videos on product features, maintenance tips and guidance for using in-cab technology.
The training series "are just another way for Kenworth and Kenworth dealers to provide assistance to their customers in 2018," Swihart says.
Ian Coburn of GPA Training says the training revolution was a long-time coming.
"I think the dealer industry was neglected on learning and development for a long time," he says. "One of the biggest things you heard if you went to any dealer event was that they wanted training. They wanted to learn more about how to engage with their customers."
This is Part II of Successful Dealer's four-part report on the state of the dealer market. Part III can be found here.