This is Part IV of Successful Dealer's four-part report on the state of the dealer market. To read Part III, please CLICK HERE.
As teased in Part I, most in the dealer market are optimistic for the remaining months of 2018.
January's new truck order totals were among the highest on record, hitting numbers the market hadn't seen since pre-EPA emission regulations. Additionally, though the stock market has stumbled in recent days, overall economic trends remain positive for trucking.
"Everything seems to be trending in the right direction for us," says McCoy Freightliner New Truck Manager Brad McCoy. Kenworth Marketing Director Kurt Swihart agrees, adding, "The trucking industry will be aided by strong consumer confidence, a robust construction environment and record freight levels this year."
Out in Arizona, Inland Kenworth New Truck Sales Manager Don Blake says that a robust construction environment is already driving vehicle demand among his customers.
"Kenworth is one of the dominant manufacturers in the construction segment, and that market is really bouncing back right now," he says. "We are seeing a lot of those customers start stepping up and replacing their equipment."
A similar story can be found in regions where oil and gas production are rebounding, as well as the Texas and Florida markets replacing units destroyed by last year's hurricanes. Duplicating January's near record-setting order totals is unlikely this month, though seasonal order trends suggest numbers should remain high through Q1.
"We can't predict exactly what the economy is going to do — we don't have a crystal ball — but right now our projections and industry projections are outstanding," says McCoy.
Rising tonnage and corresponding utilization spikes could help drive growth in the used truck market as well. Motor Power Equipment Vice President Brian Sunwall says his used truck department prospered when the energy sector picked up last year, and he's expecting that development to continue through 2018.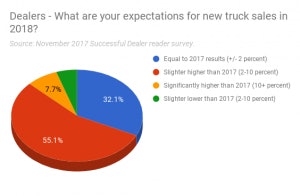 Looking at the national market, Rush Enterprises President, Chairman and CEO Rusty Rush believes truck supply will remain high due to the large new sales years in 2014 and 2015. Whether or not the market will absorb that volume will depend on GDP growth.
Successful Dealer readers agree. According to a November 2017 reader survey, almost 95 percent of dealers expect the new truck market to remain steady or grow in 2018, and 90.5 percent of those same readers have similar feelings toward the used marketplace.
Predictions for the parts and service market are bullish as well. Between maintenance and warranty service for the growing new truck population, burgeoning all-makes aftermarket product portfolios being introduced by every OEM to the business opportunities detailed in Part III, dealers are well positioned against their independent counterparts in the parts and service world.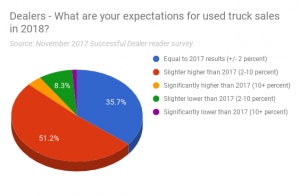 "We have been in an open dialogue with our dealers for quite some time about 'how do we improve customer uptime?' and a lot of those ideas — from Navistar, from our dealers — are being implemented right now," says Mark Reiter, vice president of global product support at Navistar. "It has been a collaborative effort to change and improve."
As a Navistar dealer, Richard Lewis, vice president of parts operations at Lewis International, says his business has appreciated those efforts, and has witnessed their positive influence on the company's bottom line. Improvements in the new and used truck markets are always welcome and appreciated, but when it comes to profitability, parts and service sales provide stability and consistency dealers can rely on.
Together, each business segment adds up to a confident dealer channel. Only 3.3 percent of dealers responding to November's Successful Dealer survey expect revenues to fall within the channel in 2018, and even less, just 1.1 percent, have set their 2018 goals below where they were last year.
As for what to expect beyond 2018, OEMs and dealers appear cautiously optimistic. Many believe the growing economy should generate enough purchasing demand to avoid sales troughs, while also sustaining parts and service operations.
Additionally, new business-friendly Federal tax laws have many within the trucking industry (and economy at large) predicting investment into American business in the coming years.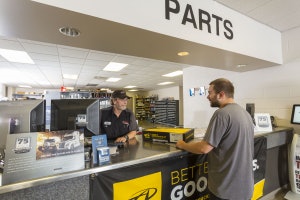 Said one Successful Dealer survey responder before the new law was passed, "If the tax rate comes down we will use the money to invest in our people and our business."
Another downswing will inevitably come (one always does), but as for today, this year and the immediate future, life in the dealer channel is good.
"This is an exciting time to be in the industry," says John Schmitz, general manager at McCoy Freightliner. "There is a lot of new technology coming into the market and on the horizon. The economy is growing and hopefully business is going to grow as well."