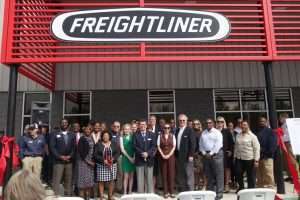 Four Star Freightliner Inc. recently held a grand opening celebration for its dealership located at 270 Four Star Way in Midway, Fla. Operations officially moved from the previous location on Capital Circle in Tallahassee in late January.
More than 200 guests attended the March 1 celebration, including members of the Midway and Gadsden County communities and Four Star Freightliner customers and vendors. Everyone joined in the official ribbon cutting and helped dedicate the new road leading to the facility: Four Star Way.
"We will be better able to support the transient customers by being easily accessible to Interstate 10 and the two largest truck stops in the area," says Jerry Kocan, Four Star Freightliner dealer principal. "Not only will customers have greater access and visibility, there is much more space to support our customers' needs for parts, sales and service."
In addition to opening a new dealership in Midway, Four Star Freightliner is excited for the new diesel technician program that will begin as a result of a partnership with the Gadsden Technical Institute, according to an announcement. The new training program will initially be housed inside the new Four Star Freightliner building.
"The average diesel technician with five or more years' experience has the potential to make $80,000 a year or more," says Kocan. "It's exciting for Four Star Freightliner to be part of helping to grow and develop jobs in this great county."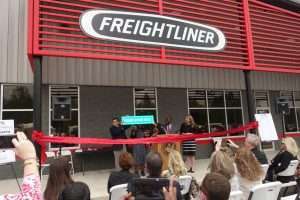 The cooperation between the Florida Department of Economic Opportunity, Gadsden County and the Gadsden County Development Council made it possible for Four Star Freightliner to make this investment in the City of Midway.
"It is with great enthusiasm that I welcome Four Star Freightliner to the City of Midway," says Midway Mayor Wanda Range. "It is our sincere hope that Four Star Freightliner's new and expanded presence will benefit Four Star and the citizens of Midway and Gadsden County for years to come."