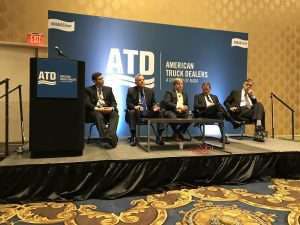 The trucking industry is on a hot streak and has potential to maintain its good vibes through 2018, but during a roundtable discussion Thursday at ATD Show 2018 in Las Vegas, industry numbers experts say it's important for truck dealers to keep an eye on potential risks and challenges that could soon appear on the horizon.
No hot streak goes on forever. Even in Las Vegas.
Thursday's discussion included a trio of economic presentations from ACT Research — on the national economy, new and used truck sales — and were followed by a quick look at the parts and service market from MacKay & Company.
Batting leadoff, ACT Research Principal of Industry Analysis Jim Meil told dealer attendees if business felt strong now that there was "a reason for that," as the U.S. economy has posted GDP and industrial production rates of 2.9 and 3.3 percent, respectively, over the last three quarters. Meil says those numbers are significantly ahead of the national averages from 2009 to 2016, and with 2018's first quarter almost over, Meil says ACT Research is predicting GDP to maintain its bullish rate and post a number around 3.0 percent in 2018.
Tracking back to late 2016, Meil says the U.S. economy has experienced "almost a perfect storm of positives." He says small business and consumer confidence rates are at their highest levels in more than a decade and, looking at the trucking industry specifically, he says publicly traded trucking companies listed on the Dow Jones have seen their stock prices grow by 33 percent since last July. He says a lot of the recent positives should remain in place for 2018 and beyond but acknowledges he does have two concerns for the U.S. economy and trucking in particular over the near future.
One is interest rates. Meil says the Federal Reserve is raising interest rates now to stay ahead of the growing economy's inflation curve. The other concern is trade — and any decision made by the current administration that could impact the free flow of goods and products across the country.
"Some of the achievements of last year might be reversed if we find ourselves in a trade war," Meil says, adding "we are in a business where the free flow of goods … is a good phenomenon for our business."
Meil was followed by ACT Research President and Senior Advisor Kenny Vieth, who spoke on the new truck market, and Vice President Steve Tam, who addressed the used truck market.
Confirming what most in the audience already knew, Vieth says the Class 8 new truck market is indeed growing at unprecedented rates. He says the market has grown 200 percent year-over-year over the last five combined months, and of the 190,000 new trucks entering the industry this year, ACT Research is predicting 50,000 of those as new trucks being added to the national fleet. He says truck loads and freight rates are growing, and when fleets have new business potential they "buy trucks to make money."
But Vieth says the market's currently torrid pace will not exist in perpetuity, and when things do eventually slow, he says the industry should be prepared for a trough. Higher highs beget lower lows.
In the equally volatile used truck market, Tam says the struggles of 2016 and 2017 were unfortunate, but a rough stretch was likely after the strength of 2014 and 2015, which he describes as "better than they should have been for longer than they should have been."
Currently, he says the strength of new truck market has actually helped temporarily shift prices in the used market — over the last four months, he says average used truck prices have appreciated — but that the market is unlikely to maintain that rate as the year continues and more trade-in units increase unit totals in the industry. He says overall prices slipped about 5 percent during 2017.
Finally, in the aftermarket, parts sales are booming. John Blodgett, vice president of sales and marketing at MacKay & Company, says fleet utilization and the industry's operating population appear to be rising, necessitating more components moving into the industry. Blodgett says the aftermarket grew in 2017 in all channels (dealers outpaced independent distribution) and is expected to do the same in 2018 and beyond.
Additionally, Blodgett says the OES channel has its biggest edge in the parts industry when it comes to new components. MacKay & Company data shows components such as engines sensors, aftertreatment parts and other new vehicle technologies only accounted for 13 percent of all parts sales last year, but that among that group, 80 percent were sold by dealers. He says conventional parts and cab and chassis components were only in the 50th percentile toward the dealer channel.