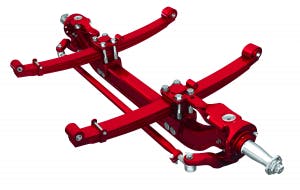 Autocar has partnered with Hendrickson to introduce the Hendrickson STEERTEK NXT fabricated front steer axle in Autocar ACX units.
Autocar Assistant Brand Manager Jessica Shrout says the partnership with Hendrickson and development of this new 20,800 lb. capacity axle was generated by customer requests in the refuse market, where ACX units are used.
"Since our primary focus is refuse trucks we have the great opportunity to make things very customized for the refuse haulers we serve," she says. "We have the opportunity to work with any number of suppliers to specifically address our customers' needs."
In the rough and tumble world of refuse, most customer needs can be traced to durability and weight savings. Hendrickson Truck Group Director of Marketing Stephen Hampson says the STEERTEK axle provides maximum weight savings, durability, handling and performance. During production of the axle, Hampson says Hendrickson used a comprehensive development process with field evaluation units and extensive laboratory testing to ensure new axle could meet all of Autocar's needs.
Hendrickson says the front steer axle and integrated suspension are optimized to deliver maximum performance as a complete system solution. The fabricated STEERTEK NXT design integrates lightweight axle durability with advanced spring suspension technology, saving 60 lb. compared to traditional I-beam axle and multi-leaf spring systems. Designed specifically for ACX vehicles, the system delivers true system efficiency in demanding refuse applications.
"We believe this offers our customers the toughest axle on the road," Shrout says.
Available now in front loader applications, the STEERTEK NXT is currently exclusive to Autocar. Hendrickson also produces rear suspension units for Autocar applications.