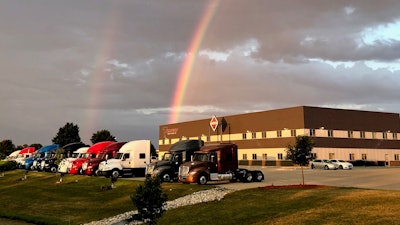 There are many roads across the Midwest that lead to Thompson Truck & Trailer. But within the company's locations, all efforts are pointed in the same direction — toward doing whatever it takes to ensure its customers are successful.
"Our motto is 'Whatever it takes to deliver what matters' and I really think our people take that to heart," says President Travis Thompson. "We realize we are not the biggest dealer group out there but I think there are benefits to that. We are small enough to know all of our customers and they know our business. I think that has helped us build customer relationships, and I think it helps us in being responsive to our customers' needs."
Thompson says he thinks customer centricity is probably what helped the second-generation family business earn its recognition as a Successful Dealer Award finalist for the first time in 2022.
"I think we were nominated because we're a very customer-driven group. We have a drive to help our customers succeed and we go to great lengths to support them," he says. "We're glad to be recognized for that."
Thompson Truck & Trailer was first known to Midwestern truck owners as Hawkeye International Trucks. Thompson's father Dennis started in the business in 1976 as a mechanic's helper and rose steadily, eventually buying the company in 1998. Travis joined the business that same year and together the Thompsons spent nearly two decades expanding the company's area of operation and business capabilities while fine-tuning its go-to-market strategy.
When the business was rebranded as Thompson Truck & Trailer in 2014, it did so with a footprint of six dealer locations (five in Iowa, one in Illinois), three Goodyear tire and retread facilities and a workforce of more than 200. Travis Thompson says many of those associates are still with the company.
[RELATED: Finalists selected for 2022 Successful Dealer Award]
"We have some locations where our average tenure is probably 20 years, if not more," he says.
Thompson says he believes employees stay with the business for several reasons. One is the company's focus on internal upward mobility. Thompson and his father both entered the business through its service departments and rose to leadership positions; other management within the company have similar stories. Thompson says employees appreciate that as they see career advancement within the company is possible.
The dealer group's familial atmosphere helps too. Thompson says he and his father know all their employees and travel between the company's facilities regularly to stay in touch with everyone. Employees are encouraged to speak up when they see opportunities to strengthen corporate processes and support local community or industry events. The company's workforce also doubles as its strongest recruiting tool, says Director of Service Matt Burton.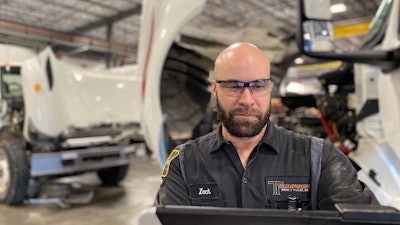 "We have very strong referral rates. We've had a few employees who have created a string of referrals where one person brings in a person who brings in another person and so on," he says.
A culture that supports and encourages employee autonomy when providing customer solutions also endears people to the business.
"Our size allows us to be creative," says Kristi Goodale, chief financial officer. "We have the ability to make changes and adapt to challenges quickly when we need to and our employees are aware of that."
[RELATED: Thompson Truck & Trailer adding two trailer brands]
One recent change already paying dividends is expanding the purview of the company's sales teams. Thompson says while the company does have employees who specialize in specific market segments, anyone selling for the business is well-versed on Thompson Truck & Trailer's comprehensive capabilities and is trained to support any and all customer requests.
"We try to motivate our employees to sell Thompson — everything we can offer," he says. "We want customers to see us as a 'one-stop shop' so it's important that our people can speak to everything we do."
Thompson Truck & Trailer also tries to offer solutions to problems customers typically wouldn't bring to a truck dealer. The business recently donated a tractor to a local CDL training facility because "for a long time we kept hearing from customers that their biggest pain point was hiring drivers," says Erica Bellach, director of marketing. "We wanted to support driver training to bring more people into the industry."
The company even once painted the boats of the University of Iowa rowing team in its 126-ft. long paint booth, the largest in the state.
"We are willing to do things outside of the box," says Thompson. "We will go to great lengths to help people."
The 2022 Successful Dealer Award is sponsored by Automann, Interstate Billing, Karmak, National Truck Protection and Premium 2000. The 2022 Successful Dealer Award will be presented in October at a private awards banquet in Nashville.