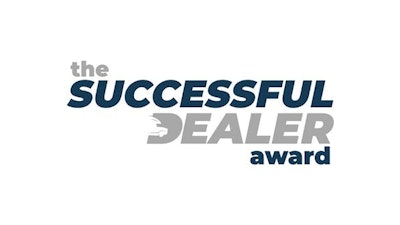 Only two weeks remain for medium- and heavy-duty truck dealers to nominate their companies for the tenth annual Successful Dealer Award, presented by Trucks, Parts, Service.
Sponsored by Automann, Interstate Billing Service and National Truck Protection/Premium 2000, the Successful Dealer Award is the ultimate in dealer recognition events. All commercial truck dealers are eligible to participate in our annual program, but only the industry's best and brightest are selected as finalists.
Created to honor our industry's best (not just biggest) dealers, the Successful Dealer Award highlights truck dealers who consistently showcase customer service excellence, employee empowerment and engagement, community leadership, industry engagement and more.
Last year's award was presented to CIT Trucks, headquartered in Normal, Ill., at a special awards banquet in Phoenix.
And this year, to celebrate our program's tenth anniversary, our Successful Dealer Award banquet is expanding into a two-day event.
Set for October in Nashville, our 2022 Successful Dealer Award banquet will feature multiple educational roundtables, industry speakers and networking events where finalists, prior winners and sponsors will engage in top-level industry discussion and enjoy exciting social activities.
Participation in this exciting event and the entire Successful Dealer Award program is free to dealers, but you can't attend if you aren't willing to speak up on behalf of your business. That means nominating your company for our award. It only takes 30 seconds and doing so enters you into contention to be selected as a finalist for this year's award.
NOMINATE A DEALER FOR THE SUCCESSFUL DEALER AWARD HERE
We want to know more about your businesses. We want to give you the recognition you deserve. So, please. Don't delay. Nominate your business for the 2022 Successful Dealer Award and see where you company stacks up against our industry's best. Nominations close on June 30.