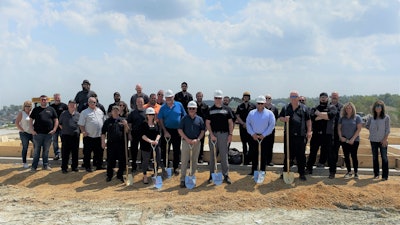 Thompson Truck & Trailer recently held a groundbreaking ceremony onsite at its new Dubuque, Iowa, dealership location. The entire Dubuque parts, service, and truck sales team came out to the new building site to celebrate the groundbreaking
The current Thompson Truck & Trailer dealership is located at 1190 Roosevelt Ext., just off Kerper Blvd. and employs 35 people. The new building will be along Highway 20 west of Dubuque, on the new Southwest Arterial exit, providing additional space and convenience to serve customers and attract and retain top talent, the company says.
The new 29,500 sq.-ft., facility will include eight drive through bays plus an additional half bay. The company says the service area also includes an overhead crane, a wash bay, increased parts warehousing space, and an improved customer lounge with a dedicated restroom and shower for customers. Charging infrastructure will be included in anticipation of the arrival of electric trucks in the future. In addition to the facility upgrades, Thompson Truck & Trailer also notes it will increase employee headcount from 35 to 45 upon completion of the new building.
"This new building has been a long time coming," says Truck Sales Manager, Dave Duwe, who has been with the company for 40 years. "This is a great location and the facility will be a huge upgrade for our team and our customers."
"Our new location will provide more space and ease of access for our customers," adds Joe Hoffman, general manager of the Dubuque dealership. "We're excited for the added convenience, plus the increased visibility that we don't have at our current location." Technicians will enjoy spacious, pull through bays while the parts team will have space for additional inventory.
The project will be completed by local construction company, Portzen Construction. Some construction has already begun, and the tentative completion date is the first quarter of 2023.
"Our team is very excited for a new facility and our customers have asked for this," says Travis Thompson, president and CEO. "I am excited to grow our business and continue to serve the hardworking men and women of the trucking industry."