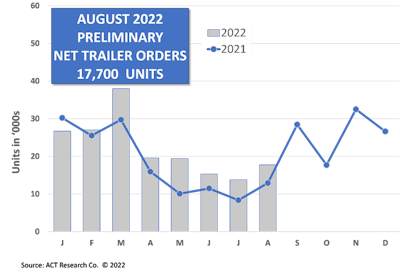 Trailer orders were steady in August, ACT Research and FTR announced this week.
ACT Research says its preliminary August trailer order total of 17,700 units was up 6 percent from July though down 39 percent from August 2021. FTR pegged the month at 16,400 units, down 3 percent month over month but up 21 percent from August 2021. FTR also notes trailer orders have now totaled 286,000 units for the past 12 months.
ACT's preliminary analysis of the month pointed to increasing optimism in the trailer OEM space.
"With 2023 orderboards slowly opening, it is no surprise that net orders in August were on the rise," says Jennifer McNealy, director, CV market research and publications, ACT Research. "It is equally no surprise that net orders continue to best 2021, given the continued supply-chain constraints, both in materials and labor, that trailer manufacturers are facing. With long backlogs, fleets still want to make sure their orders are in queue, regardless of when they will be filled."
Additionally, McNealy notes that trailer OEMs are reporting improvements in their supply chain throughput, albeit a gradual advancement. "Improved build rates are illustrated in the decline of the backlog-to-build ratio, which has been in the neighborhood of eight months, but is expected to descend toward the seven-month mark when final data is released later this month," she says.
FTR's analysis was slightly more muted, though the firm did note improvements to production rates seem possible in the months ahead.
[RELATED: More context on July's trailer orders and backlog challenges]
"In discussions with both suppliers and OEMs labor continues to endure as one of the greatest factors inhibiting the industry's ability to increase production," says Charles Roth, FTR commercial vehicle analyst. 
"Visibility into component and raw material supply chains, which is necessary for OEMs to plan production and quote new orders, will only increase as we move through Q4 as suppliers finalize and provide OEMs with pricing and lead time commitments for Q1 production.
He adds, "We anticipate industry backlog levels will again decline month over month in August, continuing a trend that has been present for the past five months. Demand nonetheless continues to remain exceptionally robust as fleets and end-users have struggled to replace aged equipment and have been limited as to the opportunity to add additional equipment necessary to meet any plans to increase overall fleet capacity. Fleets continue to see allocation limits for build slots as well as existing orders being pushed out into the future."