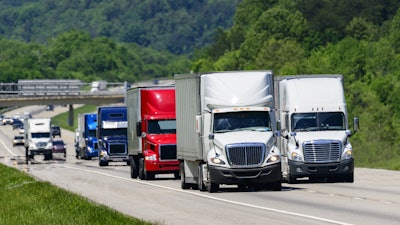 Labor remains the largest barrier to growth for commercial vehicle suppliers, dealers and the aftermarket but also the industry's strongest data point against a recession, the Heavy Duty Manufacturers Association (HDMA) and MacKay & Company reported Wednesday in HDMA's monthly Pulse webinar.
During presentations by HDMA's Senior Director of Market Research and Analysis Richard Anderson and Dave Kalvelage and Bob Dieli with MacKay & Company, the experts shared the results of their market surveys and research that indicate while business growth has slowed in the commercial vehicle component space, the overall market (and economy) appear to have not yet entered a recessionary phase in the business cycle.
[RELATED: Analysts expect softening in freight market in months ahead]
Kicking off the webinar, Anderson reported HDMA member companies have scaled down their business projections for the rest of 2022 and into next year. He says HDMA's most recent Pulse survey uncovered members predicting 11 percent year over year sales growth in Q3 and 15 percent for Q4, with an overall prediction of 11 percent for the year as a whole. Anderson says those third quarter and year end guesses are down from earlier this year — 2022 sales predictions were as high as up 17 percent in April — but closer in line to predictions made at the end of 2021.
In its most recent survey, Anderson says 47 percent of HDMA members cited labor as its biggest barrier to higher sales. Commercial vehicle suppliers continue to struggle to attract and retain talent. He says HDMA members surpassed 90 percent overall employment for the first time in two years in April. At the time, Anderson says HDMA members hoped surpassing that barrier would lead to 95 percent employment (which HDMA views as a normal level) but in the months since the industry has backslid. Employment fell back to 89 percent in HDMA's most recent survey and production staffing is down to 87 percent.
In asking attendees Wednesday to cite the greatest reason for their reduction in business projections from Q2 to Q3, 42 percent of responders said labor, with supply chain disruption and inflation tying for second at 25 percent. Anderson adds that's how polling has been for most of the past several months. "It seems to depend on the day and the supplier as to which [challenge] is the largest," he says.
As such, Anderson says HDMA members are anticipating labor cost projections up 6 percent in 2023, with production staff costs up 10 percent. Anderson says he is unsure if those raises will be enough to fill the industry's open positions but is certain if suppliers want to reach full employment they will have to pay their way there. He says all HDMA research points to higher wages as the only way to raise employment.
"There isn't really any indication that that will change," he says.
And Dieli says wanting to hire people is a good sign. Businesses do not look to hire in a downturn at the rate the trucking industry is hiring right now.
In reporting the most recent updates to his Truckable Economic Activity (TEA) metric, Dieli says the softening found in the market today has more to do with year over year comparisons and the circumstances in which data is measured than a true downturn. He says 2021 quarterly trucking reports were record breakers because they were being measured against the most sudden cliff event in our lifetimes. He says now we're attempting to exceed the dramatic year over year gains 2021 recorded and that's a lot taller mountain to climb.
"You only get to reopen [the economy] once," he says, adding current business conditions are not so much weak as "more in line with longer term patterns."
Yet Dieli also notes while the business cycle appears to still be in a growth period we are likely closer to the end of that phase than the beginning. He says falling GDP levels likely have more to do with how that measure is calculated — particularly related to inventory levels — than a sudden faltering of the economy.
"The headline is telling us something different than what the details do," he says.
He also points back to employment. So long as businesses remain focused on expanding their workforces, that's a good sign — "Unless we have entered a magic mystery cycle where we have a recession with rising employment," he jokes.
[RELATED: PLI signals slowing aftermarket parts sales]
Speaking between Anderson and Dieli, Kalvelage reports MacKay & Company aftermarket analysis shows 2022 tracking at a similar but slightly lower trajectory to 2021.
He says MacKay & Company is predicting aftermarket sales for Class 6-8 trucks and trailers to be up approximately 16 percent this year after rising by nearly 20 percent year over year in 2021. Kalvelage says the OES channel is outperforming aftermarket businesses on the whole, though year to date parts sales among MacKay & Company survey responders were stronger in the aftermarket sector in the company's April through July surveys.
Kalvelage also acknowledges the impact price inflation is having on overall market numbers but says the overall aftermarket would likely still be rising even if pricing had remained constant these past three years.
He says MacKay & Company has now updated its Class 6-8 trucks and trailers aftermarket demand projections to $42.8 billion in the U.S. in 2022, with a five-year compound annual growth rate (CAGR) 4.6 percent through 2027. Removing price, Kalvelage says the CAGR still projects at 2.1 percent.
The aftermarket typically exists in "steady state of low growth when you take out pricing," he says.