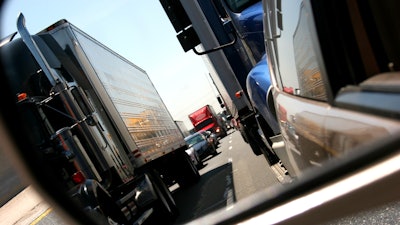 Despite rising truck tonnage month over month, analysis of truck freight conditions were muted in August and multiple industry experts are now predicting truck freight and carrier conditions will soften slightly in the final months of the year.
"Trucking companies had a great run, but freight dynamics clearly have softened," says Avery Vise, FTR vice president of trucking, commenting on FTR's Trucking Conditions Index (TCI) report last week. FTR actually increased its TCI for July to -0.7 after a -3.36 in June, though Vise says most of that positive change was attributed to fuel prices. Freight volumes and market strength are clearly on the downswing from earlier 2022 highs. FTR says its TCI has now registered negative readings three months in a row, the first time that has occurred since March to May 2020.
"While the economy and freight markets look more resilient than many observers fear, risks are weighted to the downside," Vise says.
ACT Research offered similar analysis in multiple releases last week. In the company's latest For-Hire Trucking Index, August volume was flat with fleet productivity/utilization down 7 points month over month. 
ACT Research President and Senior Analyst Kenny Vieth says August's index rating was actually stronger than June but reflects "diminished but wage-supported underlying economic conditions."
He adds, "Downward pressure on freight volumes related to inflation and interest rates, recovering equipment production, and still-rising driver populations suggest that fleet utilization is likely to be choppy across coming quarters."
Those same fears are beginning to drive down confidence in the Class 8 truck market, which has had strong demand all year and grew substantially in August. ACT published its State of the Industry: NA Classes 5-8 report that it has declining optimism inflation will be easily tamed. 
"With core inflation defying expectations, we take the Fed at its Chairman's word that the institution will take 'forceful and rapid steps to moderate demand,'" says Eric Crawford, ACT vice president, senior analyst. That analysis tracked with the company's announcement that its Class 8 tractor dashboard fell to a -2 reading in July, its fourth consecutive month of downbeat readings.
[RELATED: Trailer orders steady in August]
Vieth says ACT's interpretation is a "gradual erosion" for market demand into 2023 but no spiral down or cliff event. "Without typical late-cycle in place, we think the dashboard reading suggests a better outcome for Class 8 than was the case in our last two recessions (COVID 2020 and the Great Recession 2008-2009)," he says.
And ACT Research does continue to expect a mild recession of some form in 2023, similar to Bob Dieli of RDLB and MacKay & Company, wrote in the latter's September newsletter a recession is now "looking more and more like the middle of 2023."
"A modest 2023 recession centered on the first quarter remains our base case," says Crawford, "with a more material freight downturn having already started in the second quarter of 2022 and beginning to contract year over year in the fourth quarter of 2022."
Vieth adds August's For-Hire Trucking Index confirms that assessment. "While volumes were up incrementally this month, the reading still reflects a loose trucking market and a late stage in the freight cycle. Freight volumes are not in significant downturn, but have certainly stagnated since the first quarter, whereas capacity, which always lags the cycle, is still growing. With capacity growth set to continue amid flattish industry volumes, the looser environment is likely to persist, even as volumes ramp into peak freight season in the coming months."
[RELATED: PLI signals slowing aftermarket parts sales]
Vise also anticipates capacity to grow in the months ahead, with some segments weakening faster than others.
"Market weakness will not be uniform, but the type of freight is hardly the only differentiator. Carriers heavily engaged in the contract arena should continue to fare significantly better than the total market, and those that have managed to contain costs during this inflationary environment certainly will be in a better position to prosper," he says.