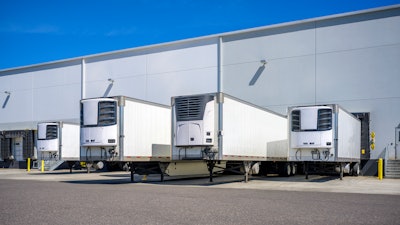 U.S. freight volumes fell last month compared to March and April 2021, according to the recent Cass Transportation Index April 2022 report. With more difficult comparisons in the next few months as global supply chain disruptions are set to intensify, Cass predicts more softness is on the horizon.
The shipments component of the Cass Freight Index fell 0.5 percent year-over-year, following a 0.6 percent year-over-year increase in March. Shipments also fell 2.6 percent from March, which was 0.9 percent below the normal seasonal pattern. Freight was slowing even before the war in Ukraine began, Cass noted, but the effects of the additional surge of inflation and recent interest rate increases have slowed freight even more.
"After a nearly two-year cycle of surging freight volumes, the freight cycle has downshifted with a thud," the company states. "It's possible the April data include some indirect impact from lockdowns in China, but with container ship backlogs still off North American ports, the direct effects on finished goods imports seem more likely in the June/July timeframe."
The firm notes that the chance of a freight recession "is now considerable" with inflation slowing overall spending, particularly through high fuel prices and rising interest rates.
ACT Research confirmed the shift in the market in its ACT Freight Forecast Outlook report Thursday.
"As recently as the start of the year, pricing power in the truckload market was firmly with fleets. But once a pendulum gets going, it's very hard to stop," says Tim Denoyer, vice president and senior analyst. "Not coincidentally, the Supply-Demand Balance in our For-Hire Survey turned loose this month, for the first time since June 2020, as the rebalancing, drawn-out by the pandemic, hit critical mass."
Denoyer adds, "We've received many questions lately about the freight sector's leading role in the economy. While we agree it is a leading indicator, it's mainly for the goods economy, rather than the larger service sector. We also agree that Russia's war has a tough-to-quantify but clearly adverse macro impact, and softer freight volumes are consistent with a slower economy."