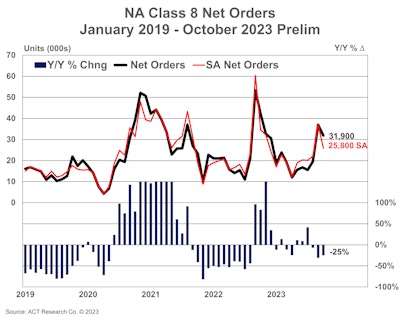 Class 8 truck orders stayed hot in October. ACT Research reported Thursday preliminary orders of 31,900 units last month, slightly down from September but above trend nominally and seasonally. FTR's assessment was a little more bearish at 28,000 units, down 10 percent from September and 35 percent year over year.
"A strong seasonal factor presses down on 'real' orders this month, with seasonal adjustment dropping October's intake to 25,800 units, still good for the third-best order month in the past 12 months," says Kenny Vieth, ACT Research president and senior analyst. "The Class 8 backlog should rise by around 3,400 units when full October data are released in mid-November. If those numbers hold, Class 8 backlogs will have ended October at around 165,000 units."
FTR reports the weaker comparisons were well within expectations given the weakness in freight transportation and the ongoing normalization of equipment markets following exceptional demand in 2022. Class 8 orders totaled 255,000 units over the past 12 months. FTR adds the annualized rate over the past six months has been 233,000 units. The annualized rate over the past three months has been much stronger than the 12-month total, but that result is simply a function of the recent opening of 2024 production slots, FTR reports.
"Build slots continue to be filled at a healthy rate," says FTR Chairman Eric Starks. "We expected a year-over-year decrease in orders and were not surprised by the month-over-month easing, either. The overall picture for truck demand is steady. Despite freight weakness, fleets continue to be willing to order new equipment, affirming our expectations of replacement demand during 2024."
And Vieth adds continued seasonal strength would be helpful for the industry. ACT amended its 2024 production forecasts down late last month as backlogs have fallen into a range that may not require robust production.
"Even though backlogs, in seasonal fashion, are rising, they continue to point to a different market vibe heading into 2024," Vieth says. "As we head into 2024, the absence of the large backlog cushion the industry has enjoyed the past two years underscores the importance of seasonal order activity in the coming months."
In the Classes 5-7 market, ACT Research says preliminary orders were 21,500 units.