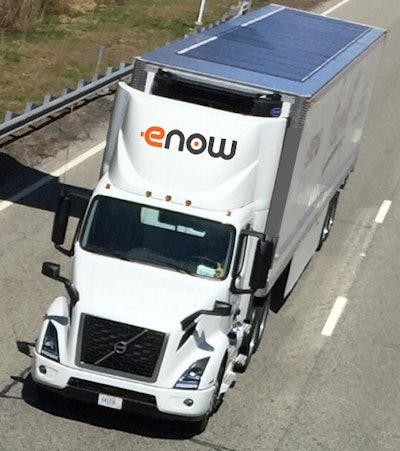 Fontaine Modification is expanding its extensive electrification integration services to include refrigerated trailers through a strategic alliance with electric transport refrigeration unit (eTRU) innovator eNow Inc.
As part of the partnership, Fontaine will offer application engineering, integration, and installation of eNow's proprietary renewable Rayfrigeration eTRU technology on refrigerated trailers from all manufacturers.
Fontaine says the system can be powered by any combination of solar, e-axle and shore power. The renewable power sources maintain a high-capacity lithium-ion battery that can power an all-electric unit from 10-12 hours at temperatures from -20° F to 60°F. In addition to environmental benefits, using eTRU technology reduces fuel and maintenance costs.
"Integrating advanced systems into commercial vehicles is our specialty, and we're excited to put our expertise to work for customers who want to extend their electrification journey to include refrigerated trailers," says Dave Brosky, vice president, sales and business development, Fontaine Modification Work Truck & EV Solutions. "As electrification becomes increasingly mainstream, we see tremendous potential for moving beyond the truck powerplant to trailers and other equipment."
Fontaine has modification centers strategically located across the United States. The company's expert technicians will install the systems at its facilities in Charlotte and Statesville, N.C.; Springfield, Ohio; Detroit; Dublin, Va.; and Mineral Wells, W.V.
"We are thrilled to work with the Fontaine team to further develop the eTRU market," adds Jeff Flath, president and CEO, eNow. "With an unstable fuel market and environmental concerns reaching a tipping point, eNow Rayfrigeration technology promises to revolutionize commercial transportation by eliminating the need for diesel fuel for trailer refrigeration and lowering equipment maintenance costs."