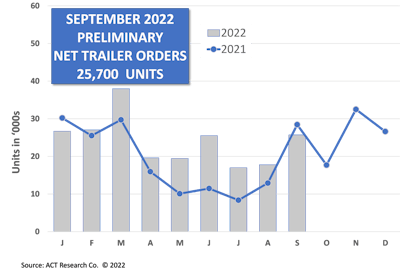 September was a puzzling one for trailer orders.
FTR reported this week after a correction that preliminary orders last month clocked in at 21,500 units. But Tuesday ACT Research reported its initial estimate for September at 25,700 units, up 45 percent from August. Final September results will be available later this month, ACT Research says. That total will show a clearer picture of how many orders were accepted last month.
"With more 2023 order boards opening, September net orders rose in seasonal fashion," says Jennifer McNealy, director CV market research and Publications, ACT Research. "As the OEMs open next year's build schedules more fully, they are reporting that most of the build slots made available have been filled."
[RELATED: NTDA panel talks future of trailer supply chain]
September's strong preliminary total was still down 10 percent from the same period last year and McNealy says when seasonally adjusting last month's total the month over month growth drops to 5 percent.
"Additionally, some trailer manufacturers are reporting expectations that when they do open the remainder of their 2023 order boards in the next few months, those spots will also fill rapidly, despite no firm pricing available at this point," she adds.