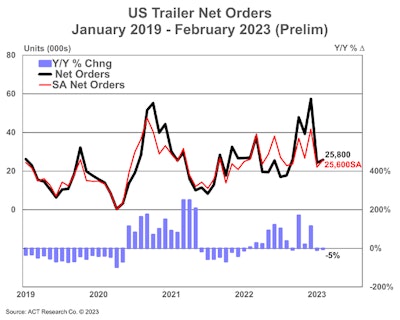 ACT Research reported preliminary trailer orders of 25,800 units in February (seasonally adjusted to 25,600 units), 6% higher than January but down 5% year over year.
Jennifer McNealy, ACT's director of CV market research and publications says the decline against 2022 "can largely be chalked up to backlog length. Trailer backlogs at the start of 2023 are 50,000 units above year-ago levels. February's preliminary data show orders for dry vans and platform trailers driving the sequential uptick."
She adds while demand remains strong, ACT Research is also seeing challenges in build data. She says production is improving, but January's backlog-to-build ratio, "a proxy for industry demand strength was nearly 10 months, roughly double the historical average. That means fleets needing trailers will need to maintain their patience."
McNealy also expands on build and backlog, noting, "Using preliminary February orders and the corresponding OEM build plans from the February State of the Industry: U.S. Trailers report (January data) for guidance, the trailer backlog should decrease by around 1,100 units when complete February data are released. That said, with orders being preliminary and the build number a projection, there will be some variability in reported backlogs when final data are collected."