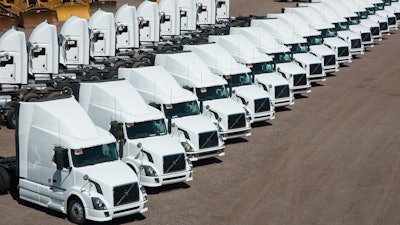 Ritchie Bros.
Used truck prices seem to have regressed from the extreme high levels that occurred due to the fallout of supply chain issues that developed because of the COVID-19 pandemic.
As used truck prices have come down, dealers are once again looking at auctions as a way to dispose of trucks that are no longer viable as retail units at dealerships. Auctions are one way for dealers to sell those "unwanted" trucks and partnering with the right auction house can affect the dealership's profitability when selling older trucks.
According to Steve Oliver, national director of sales at Taylor & Martin, "The right auction service provider is critical to generating the right buyers and highest values." He says there are huge differences between auction companies and auction types.
Rob Slavin, senior valuation analyst at Richie Bros., says dealers should look for auction houses that offer them choices and "multiple transaction solutions, along with data and insights to help them make educated decisions about their fleet."
Experts says some auction options include:
Open to the public — Oliver explains an auction that is open to the public, as opposed to dealer-only auctions, means "end users will have a chance to bid on and buy equipment." He says this often pushes the prices well above wholesale and pricing can be retail and higher.
No reserve — For this type of auction there is no predetermined minimal acceptable selling price between the seller and the auctioneer.
Absolute — In this option, everything will sell at market value to the highest bidder of the day, Oliver explains.
Online — These auctions offer a convenient way to sell equipment quickly, Slavin explains. "Sellers rely on these auctions to maximize their return quickly. With the sale and transaction all taking place online, we maximize convenience."
Other options include timed online auctions, dealer-only auctions, miscellaneous equipment auctions and e-Bay style auctions.
With a variety of auction types and auctions houses available, it can be confusing for sellers to select the option that makes sense for them. Dealers need to evaluate various auction houses and the type of services they offer. "When dealers are evaluating auction houses, they should look for companies that can provide a global audience and choice of transaction solutions, as not every item should be treated the same,' Slavin says.
Experience and results are the factors Oliver suggests dealers look for in an auction house. "A dealer must be able to trust that estimated auction values are accurate so they know they can trust the information they are receiving to make good inventory decisions."
Not every dealer selling at an auction has the same goal. Some want to move a truck ASAP while others want to maximize value and auction house management can offer guidance on the best auction for a unit. According to Slavin, there are three main priorities: price, timing and convenience. There are auction types that address each of those priorities.
[RELATED: Retail used truck volumes down nearly 20 percent]
Oliver says Taylor & Martin works with sellers to develop a strategy that is consistent with their overall goals. "In some cases, because of certain specifications or location, it makes sense to select a specific area to sell, but for the most part there is parity [from coast to coast]."
There are a variety of ways an auction company can assist a dealer in determining the value of an asset it is selling, but having data is the most important. Slavin says data on dealer and rental sales, price indexes, volume and pricing charts can all assist with asset valuation. "We want our customers to feel empowered they are making the right decisions when selling or buying. The more information they have the more confident they will be on auction day."
Oliver also stresses the importance of dealers getting a an accurate estimate of the value of an asset before going to auction "so they can make educated decisions on the sale of their inventory."
Additionally, professional auction houses can offer other services like appraisals, inspections, refurbishments, financing and leasing, warranty, insurance, shipping and more, according to Richie Bros.
"An auction service that is trying to provide a great service should be willing to handle the process from start to finish," Oliver says. "The goal is for the dealers to be able to make an informed decision on the sale of their assets and then turn it over to the auction professionals."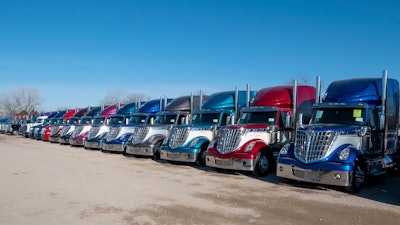 Auction channel also sustains consistent volumes
Even during the pandemic some dealers were using auctions as a way to either get high prices for their assets or, in some cases, as a source of inventory. Oliver says regardless of economic or market realities, the auction method is a viable channel for a dealer.
He says even at times of lower inventory there can be increased business for auction houses. "Sellers know the auction channel is the easiest way to sell equipment, get paid in a definite time frame and generate the highest return on assets."
Currently, he says day cabs are drawing a premium because of high demand and lower supply from the OEMs.
Slavin adds during the pandemic the used truck market saw very strong demand, with limited new truck and uses truck availability, combined with record high spot rates. "As the supply chain has loosened, spot rates have decline and fuel prices have gone up. We have started to see truck prices decrease and volume increase."
In terms of what is selling at auction, he says this year Freightliner was the most commonly sold truck, followed by Volvo and International. "Our biggest sellers by volume are 6- to 7-year old trucks," he adds.