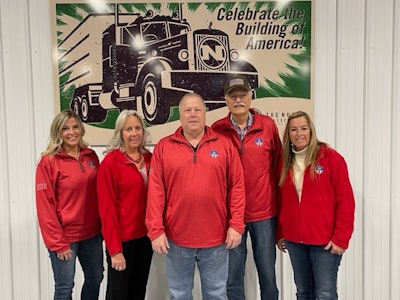 For the fourth consecutive year, Nuss Truck & Equipment has been honored as a recipient of the HIRE Vets Medallion Award by the U.S. Department of Labor for the company's dedication to recruiting and employing military veterans.
One of just three Minnesota companies to be distinguished with the Platinum Medallion Award in 2022, Nuss is pleased to continue this legacy, having received the Platinum Award in 2021 and the Gold Medallion Award in 2020 and 2019.
"Hiring veterans is vitally important to success at Nuss. These servicemen and women lead efforts for our freedom and are uniquely qualified to lead efforts in our organization," says Josh Rock, talent acquisition manager.
Nuss Truck & Equipment joins 834 other companies from across the United States, who have shown a commitment to hiring veterans, by ensuring that they have a long-term career and growth plan that uses the diverse skills they acquired through their military service. This federal award recognizes employers for their notable investment in recruiting, employing, and retaining our nation's heroes through leadership programming, veteran specific resources, and tuition assistance programs, the DOL says.
"We are very proud of being recognized for our commitment to the brave men and women who have served our country," says Joe Spier, director of Human Resources and Safety. "Working with veterans is a priority for us. It is an honor to serve them and help them build rewarding civilian careers here at Nuss."
Every Friday is a R.E.D. Friday at Nuss, a day set aside to Remember Everyone Deployed in honor of our nation's deployed servicemen and women. Employees are invited to wear R.E.D. on Fridays and R.E.D. apparel can be purchased at all Nuss locations. A portion of the proceeds, as well as a company match through the Nuss donor advised fund at the Rochester Area Foundation are being donated to the United Service Organization to support all active-duty service members while they are being deployed, the company says.