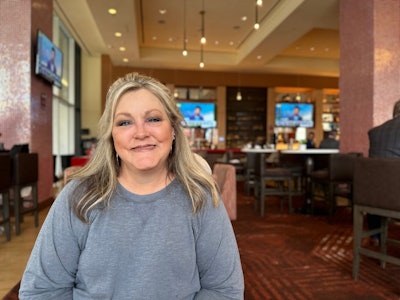 Beth Colvin
Kimmy Gross passed Joe Gross' house her whole life.
She didn't know that one day she'd live in it.
Joe is a Rush Truck Center technician competing in the Rush Truck Centers Tech Skills Rodeo in San Antonio. Kimmy is his wife of 30 years. The couple live in Seguin, Texas, and Joe works at the Rush Truck Center in San Antonio, where he's worked for 31 years.
For the past eight years, Joe has been a foreman, Kimmy says, and you can't compete in the rodeo as a foreman. He judged a virtual contest, though, to stay involved. Now, his shop created a spot for him on the floor where he helps train younger technicians.
"You're not a young dude anymore," Kimmy says she told him. "Pass your knowledge on to someone else."
Now he has three trainees and though he does get impatient with his charges — "I said, 'No sir, that's not what you're there for,' " Kimmy says — she's proud of the work he does. They're also glad to be back at the rodeo.
"It's a different world for me," Kimmy says. And she's glad that Senior Vice President of Truck Sales and Aftermarket Sales Jody Pollard recognized spouses at the rodeos General Assembly on Sunday night.
[RELATED: A Rush Tech Skills Rodeo first: Two women techs compete]
During the rodeo, Rush Enterprises treated the spouses who endured rounds of testing and studying to trips throughout the Hill Country, including a wine tour. Kimmy says she met some of the other wives and have been spending her time with them while Joe competes.
Joe and Kimmy met for the first time, despite living so close to each other, in a saloon. The recently divorced, single mother Kimmy had been persuaded to go out by a friend.
"I'd never been out before as a single mom," Kimmy says. "I sure as heck wasn't looking for another man."
She found one. And she'd never go out as a single mom again.
Kimmy and Joe went on to raise three kids and now have six grandkids.
"I love supporting him," says the Marian County schools employee and firearms instructor. "He works hard."