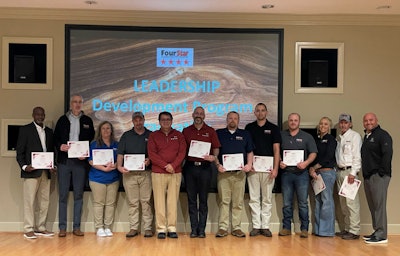 The first-ever Four Star Leadership Experience left participants with an appreciation of their past journey and excitement for what lies ahead as they work to cultivate relationships that will lead to success both personally and professionally.
Ten leaders chosen from the seven Four Star Freightliner locations participated in the eight-month leadership development program. It wrapped with a graduation ceremony in Opelika, Ala. on Feb. 22 where the leaders reflected on their past experiences and laid out a plan for the future.
Scott Brown of Leader Rocket Consulting facilitated the program. He encouraged the participants to look at the reality of where they are and build a vision for the future.
"Focus on decisions you make and the influence you have because it is an honor and privilege to lead others," Brown told the group during the graduation ceremony. "Always come from the heart as you continue on your journey."
The graduates included:
Zack Howard, Midway, Fla.
Troy Scott, Midway, Fla.
Sonny Hartley, Valley, Ala.
Janice Hussey, Valley, Ala.
Monica Watson, Dothan, Ala.
Clay Lee, Albany, Ga.
Dan Klein, Valdosta, Ga.
Austin Petty, Tifton, Ga.
Michael Todd, Midway, Fla. & Valdosta, Ga.
Michael Ellifritz, Montgomery, Ala.
"The most important thing when you have a business is not the money, but the investment in your people" says Jerry Kocan, Four Star Freightliner's owner and dealer principal. "This program is an investment in our future."
The graduates felt their time spent in the program was well worth the investment.
"I came out of each class with something that I could apply, could make my life better, and would affect my peers in a good way," says Zack Howard. "Jerry and Four Star are making an investment in me personally and professionally so that Four Star can not only have a successful company, but that I can lead a successful life."
Brown will continue to provide coaching to the graduates through the end of the year.