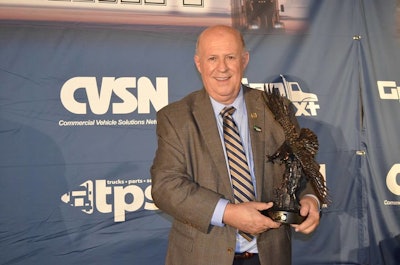 A titan of the independent aftermarket has retired.
Angelo Volpe, who spent nearly three decades as executive vice president of the Commercial Vehicle Solutions Network (CVSN) and its predecessor the National Wheel & Rim Association (NWRA), retired January 31 after helping to organize the largest Heavy Duty Aftermarket Week (HDAW) in history.
Volpe entered the independent aftermarket as a supplier associate and cut his teeth selling product into the distribution channel across Canada. He was recruited into the association world in 1994, when he was picked as the next leader of NWRA. Volpe's wonderful leadership of NWRA enabled the organization to eventually absorb the Council of Fleet Specialists (CFS), and the combined aftermarket entity was rebranded as CVSN in 2006.
During his time at CVSN, Volpe was vital in negotiating the group an ownership position of HDAW and supporting the group's interests in key areas of the aftermarket, such as the right to repair, industry recruitment and engagement and the constant drive to improve vendor and distributor relations.
In the wake of his retirement, many of his longtime friends and colleagues shared their memories of his career and affirm his importance to the independent heavy-duty aftermarket.
Mike Betts, chairman and CEO at Betts Company:
"The thoughts that are in the forefront for me is the genuine friendly and positive ways Angelo communicates with people. He is a gracious and thoughtful man, one who cares deeply about the industry we care so much about. He has consistently led CVSN to greater success year over year and has had the ability to bring people together on important and difficult topics."
Pat Biermann, retired past president of HD America:
"I have known Angelo for a long time. He is a really cool dude who does a great job of bringing suppliers and distributors together and has fun doing it. He has done me a lot of favors over the years and I appreciate all his help and support. He has always done a great job of making the meetings 'run smoothly' and the most important factor is that he always does what his wife Billie tells him to do. Congrats, my man."
Ken Duval, president at Canadian Wheel:
"I have known Angelo for 30 years and he is a wonderful and always caring person. During my visits to Florida, whether on business or on vacation, Angelo was always wonderful company and knew the best restaurants, the places to shop and the best places to just relax. Angelo, Cheryl, Donalda and I got all got our Segway licenses together at Amelia Island and we would never have found it, Caps on the Water, or Ponte Vedra Beach without him.
"We went through a lot together during my time on the various boards. We worked together on the NWRA board and organized more than a few annual meetings. We developed the President's Award in 2006 and Angelo has been instrumental in ensuring its continuity. We also navigated the merger of NWRA and CFS in 2006 into what is now CVSN, and we helped negotiate CVSN's role in HDAW in 2008.
"While our industry-related accomplishments were important, after all these years it is most satisfying that I can call Angelo my friend. While it is a long way from Edmonton to Florida, we will always make sure to include Angelo in our plans when we are in the neighborhood."
Steve Hansen, vice president of marketing and communications at High Bar Brands:
"Angelo has a gift of making large, difficult projects look easy. His ability to network with both suppliers and distributors to reach a common goal is unmatched and his leadership through the inception and growth of CVSN was incredible. He will be remembered as a legend in the heavy-duty industry and I wish him the best in his consulting business."
Dallas Hensley, president of Southwest Wheel:
"[In 1994], I was tasked to replace the executive vice president for NWRA who had passed away. I selected Angelo from several candidates and was very impressed with him. He not only had the industry experience, he also had communication experience. I decided I would hire him. The only problem was he lived in Canada and he needed to be in Jacksonville, Florida. I didn't know if that would be a problem, but it turned out it wasn't. He moved to Jacksonville and became an outstanding executive vice president for NWRA and now CVSN.
"Upon his retirement, I will just say he's done a magnificent job with everything he's done. I couldn't be more pleased as the person who hired him, and, over the years he has been a great friend. Our families have traveled together very often as friends. I wish him the very best. Virginia and I love him to pieces and we're lucky that we've had such a great friend over so many years."
Butch Hill, president at HD Group:
"Angelo, retirement may be an ending, a closing, but not the end of the road. It is the beginning of the open highway. Your constant positivity and professionalism is second to none. Your smile and your dedication to the industry for 30 years is outstanding. 'Thank You' for always supporting me and HD Group. I look forward to your future and staying in touch."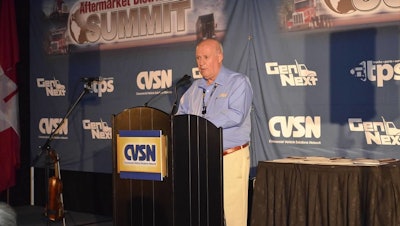 Tina Hubbard, president and CEO at HDA Truck Pride:
"Angelo, thank you for the many years you've invested in and contributed to the heavy-duty aftermarket industry. You've seen so many changes in our world, yet one thing remains the same, the people. I think the people in this industry are what makes it such an amazing industry to be a part of. Thank you for all of your contributions. It's been a pleasure working with you. You are a true gentleman. I wish you a wonderful retirement. Enjoy life! Enjoy Billie! Embrace each day to the fullest!"
Ian Johnston, vice president at Harman HVS:
"Angelo Volpe has been a constant in our industry for over 40 years. From his days at Dayton Walther in Guelph, Ontario, when he used to call on my grandfather, through his days at NWRA, through the NWRA/CFS merger and ultimately in his role as executive vice president of CVSN, Angelo has given tirelessly to the heavy-duty industry over more than four decades.
"Angelo was a key member in the forming of HDAW and has helped guide multiple boards through CVSN's history. From three generations of my family, I would like to say a heartfelt thank you to Angelo and wish him nothing but the best in the next chapter of his life with Billie."
Marc Karon, president of Total Truck Parts:
"It is difficult writing a testimonial to such an important person in our industry and a very dear friend without it sounding like an epitaph. But in a way, it is the end of an era.
"For me, in my 43 years as a truck parts distributor, the associations of independent distributors have been a major reason for my success. The ability to meet with industry greats and learn the ways of successful people helped me. But the setting was only part of the reason it worked.
"CFS was the first to set up one-on-one meetings in a setting with much time to network with other distributors. There were winter meetings that gave me a chance to develop a more personal relationship with the industry leaders. This led to more sharing of ideas. Eventually, CFS and the NWRA where Angelo was the executive vice president were joined to create CVSN.
"This is where Angelo showed his magic and saved this new fledgling association. He managed to organize a new one-on-one format meeting and he worked with suppliers for sponsorships. He built a great board (I am proud to have been one of the members) who were dedicated to building the association.
"Angelo also was instrumental in developing a HDAW ownership agreement that was profitable to all the parties and HDAW became the great meeting it is today. Over the years, Angelo has fought hard to make sure the event was focused on the independent distributor.
"The other side of Angelo is the fact he is such a good friend. How do you explain a 'good friend?' He has always been there if I needed him personally. He has been generous (just look at the money we have been able to donate from the spring meetings). If he is within 100 miles, he makes sure to call and stop in to visit. Nobody can make me laugh like Angelo. If we meet at an event, we always share a Grand Marnier. I have never heard him say a bad thing about anyone."
Edward Kuo, executive director at CVSN:
"For as long as I've been in the industry, Angelo has been a steady and reliable source for knowledge that was difficult for me to find on my own. He brings light into any room he's in and is the best in the business at hosting amazing parties. It'll certainly not be the same industry without Angelo."
Tom Labat, director of purchasing at Vander Haag's:
"Angelo has been an out front advocate for the heavy-duty aftermarket and has worked endless hours for our benefit. I want to thank you for being one of our great ambassadors for our industry; you have made a difference for us. You have my utmost respect and the admiration of a thankful industry. I am wishing you the very best in your retirement and future endeavors. Take care my friend you will be missed!"
John Minor, retired past president of Midwest Wheel Companies:
"Thank you for your dedicated years of service and leadership in two leading industry associations. Since the time when I first met you in the late 1980s and when you became the executive vice president at NWRA, I have always respected your dedication and compassion to this great industry. It was the part that you excelled at with — your willingness and respect for others. You have been a leader and mentor to many in this industry, we will miss you and your smiling face and positive attitude.
"Congratulations, Angelo, we will stay friends forever! Good luck and much success on your next adventure in life!"
Richard Moss, director for aftermarket national accounts at ConMet:
"I could always look to Angelo to just make it work. Everything from an introduction to a distributor I did not know to telling me the best place for some great Italian food. Truly a man who was happiest when he was helping someone. He has many titles but I am sure 'friend' is the one used most."
Ed Neeley, president of Truck Supply Company of South Carolina:
"I just want to congratulate Angelo on his retirement and good luck on his next new venture. It was great working with you over the years. There isn't a more caring person anywhere!"
Bill Nolan, president at PBS Truck Parts and CommPar:
"Angelo Volpe has been a remarkable resource for the industry. I first met him when we joined NWRA, a few years before the combination of NWRA and CFS. He made my wife and I feel very comfortable right from the start. He knows how to get things done and he is extremely welcoming. I watched him as we wrestled to combine CFS and NWRA. He was the right man for the job and managed to handle the resulting organization seamlessly, at least to the public, a very unsettling time. He always holds our industry and the membership of our group in mind with every decision and every action.
"He's been a friend to the industry and a personal friend. He will be a tough act to follow. Thank you and good luck."
Jeff Paul, vice president of marketing at VIPAR Heavy Duty:
"Angelo, after more than 40 years in the aftermarket industry with 30 of those being at NWRA and CVSN, I hope this next chapter of life bring as much fulfillment as your years of professional dedication has meant to the aftermarket. Having the opportunity to get to know and work with you over these many years has been an honor and I wish you much enjoyment on the road ahead."
Paul Raymond, past owner of Parts for Trucks:
"Angelo is the son of Italian immigrants who settled in Guelph, Ontario, about an hour west of Toronto. I was told his early career included time as a radio announcer. When I first met Angelo he was the Canadian rep for Erie, a brake drum manufacturer who has since been absorbed by Gunite, who in turn was acquired by Accuride.
"In 1994 the NWRA executive vice president died suddenly and unexpectedly. Angelo was selected to be the replacement a few months later. My father, Phil Raymond, was president of the NWRA at that time and so very much involved in the selection. Angelo's first major meeting was in September in our hometown, Halifax, Nova Scotia.
"At that time, the NWRA September meetings were lavish affairs with a generous budget, five days long and socializing as the primary focus. While my brother Andy and I were working at Parts for Trucks, my father spent a good part of that summer planning the meeting. By all accounts it was a great success. The highlight for many, and talked about for years after, was a lobster dinner. Lots of lobster and lots to drink, another Nova Scotian tradition! Angelo and his wife Cheryl were quickly and warmly embraced by the NWRA members and the rest, as they say, is history."
Don Reimondo, retired past president and CEO of HDA Truck Pride:
"Anyone who spends as many years in the industry as he did and contributes like he did is well deserving of recognition and his retirement. Angelo has been essential to keeping continuity in this industry. He did a wonderful job with the conversion of CFS and NWRA and brought those organizations together; that was a really tough job at the time. He's advanced the position of the independent heavy-duty distributor with his association with HDAW.
"Our industry has really morphed dramatically over the last 20 years if you look at it. Angelo and CVSN as an entity have been important in creating some stability for the independent distributor in an ever-changing marketplace. I congratulate him on his tenure and the things he helped to accomplish over his years in the industry."
Andy Robblee, president at Six Robblees':
"Angelo is the consummate professional. His skill set in managing relationships, meetings and industry relations is incredible. So impressive, in fact, I would suggest Angelo could have held any ambassador post had he so chosen a career in politics. Angelo navigates the issues of the day without a take-it-or-leave-it negotiation style. Instead, he balances genuine interest in the individual with the best interests of the organization.
"I will miss seeing Angelo at various industry meetings, will miss his warm personality and his big, infectious smile. God doesn't make them better than Angelo!"
Nick Seidel, vice president at Action Truck Parts:
"Over the last eight years of being involved in CVSN and working directly with Angelo, I have so much respect for the job he has done with the association. From the planning of HDAW, DTE, and the annual CVSN Summit, Angelo has always kept the aftermarket distributor community front of mind. He has represented the association in the most professional way possible. Over the last few years of myself being involved in the executive committee of CVSN, Angelo has taught me so much when it comes to the inner workings of the association world. The relationships he has built within the heavy-duty aftermarket are second to none.
"All the trips, conferences, trade shows, educational seminars and golf games I have shared with Angelo have created some of the best memories in my career. The heavy-duty aftermarket owes Angelo their thanks and appreciation for what he has built with CVSN and the representation he has represented over the past 30 years.
"I want to wish Angelo and his wife, Billie, a very happy future and retirement. I hope you get to play golf daily, sip on limoncello nightly, and sleep like tomorrow is going to be the best day of your life. All the best Angelo and you will be missed."
Dave Settles, president of Weldon Parts:
"The merger of CFS and NWR [into CVSN] involved two organizations with very different membership makeups and cultures. There were some large personalities involved too. Angelo's calm demeanor and knowledge of the industry was instrumental in the smooth transition and quality product that resulted. In the years since he never lost track of the association's mission. He will be greatly missed."
Walt Sherbourne, vice president of heavy-duty marketing and Canada sales, Dayton Parts:
"Angelo, not only have you been a true professional who has delivered great value to the commercial vehicle aftermarket, you have been a great friend. I want to thank you for the years of service and wish you all the best in your retirement or whatever endeavors you take on."
Tom Stewart, retired past president of Carolina Rim & Wheel:
"I would like to congratulate Angelo and wish him all the best in his retirement and continued good health. I hope he's able to relax and enjoy himself and travel.
"I've known him over 40 years and his ability to adapt to things — changes in our industry from NWRA to CVSN and then adding HDAW — he took all of those in stride and never missed a beat. His great attention to detail to make sure everything was done and if anyone ever had a question he knew how to answer it and that made him really successful. I also think having to deal with new presidents [of NWRA and CVSN] every two years made him really good at being able to change. I wish him the best and a lot of good luck in his retirement."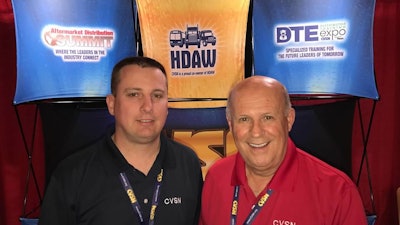 Jeff Volpe, Angelo's son and marketing director at CVSN:
"Angelo has been in the industry for a long time. I remember going on a few business trips with him when I was younger. Most notable the Mid-America Trucking Show in Louisville, Kentucky. Of course, this was back when it was strictly a truck show.
"I was fortunate to get hired by CVSN and work alongside him for the past six and a half years. I was able to be mentored by one of our industry's greats and work with family in which we always seemed to work things out for the benefit of the CVSN and its members."
Dave Willis, president at CRW Parts:
"I've been working side by side with him for 30-plus years and it truly amazes me his passion for service and taking care of everyone. Running an event, he's probably the best in the industry and making sure everyone is taken care of and making sure the vendors and the distributors all got out of the event what they wanted.
"He's been a great steward for this industry and a great personal friend. Our industry better off for having known him. I'll miss his smiling face at all the meetings moving forward."