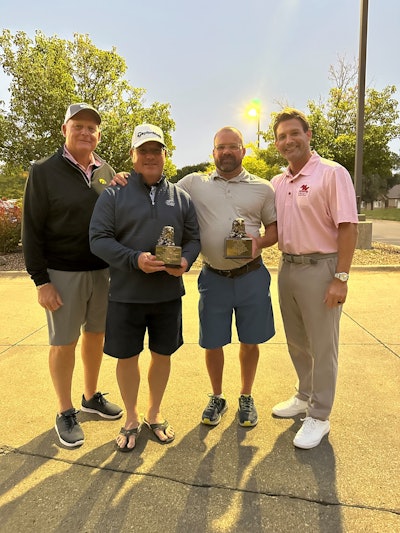 Midwest Wheel named Ryan Nelson and Chris Seiwert, both with MINK Heavy Duty Sales, the Don Shoemaker/Scott Wilson Annual Reps of the Year.
Nelson and Seiwert received their award from Midwest Wheel's Senior Vice President Adam Clark during the company's 44th annual sales meeting at the Legacy Golf Club in Des Moines, Iowa.
[RELATED: Midwest Wheel adding new store in Missouri]
Nelson has worked in heavy duty since 2004 and has been with MINK for four years. He has been calling on Midwest Wheel in some capacity for 19 years. Seiwert has been in heavy duty since 1981 and started with MINK in 2011. Midwest Wheel says both men are highly respected for the value they bring and for their commitment.
Midwest Wheel's branch managers, sales professionals and product managers served as judges for the award, which recognizes proven loyalty, adherence to policies, exemplary professional conduct, demonstrated product or industry knowledge, professional selling skills and the consistent display of respect and courtesy.