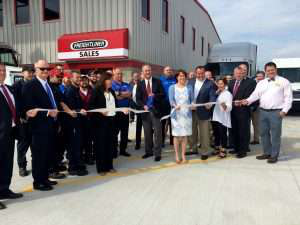 Fyda Freightliner Western Star of Northern Kentucky celebrated the opening of its newest full-service Freightliner and Western Star truck dealership with a Ribbon Cutting Ceremony on Monday.
The event was attended by a crowd that included local, regional and state officials, NKY Chamber of Commerce members, Fyda family members, and Fyda Northern Kentucky employees.
Tim Fyda, president and CEO of Fyda Freightliner, addressed the crowd with a history of the company and thanked a wide range of local, regional, and state officials along with the company's long-time contractor, Fyda Northern Kentucky management and staff, as well as Daimler-owned Freightliner and Western Star.
"Without the support, hard work, and dedication of this fine group of individuals, our new dealership could not have opened its doors in Walton, Ky," he said.
State Senator John Schickel welcomed Fyda Northern Kentucky saying, "We are excited to welcome not just another business, but a strong family-owned company, to Boone County and are happy to hear that your bays have been full since you opened. That's a great problem to have."
Situated on I-71/I-75 at Richwood exit 175, address 11095 Dixie Highway in Walton, Fyda Freightliner Western Star of Northern Kentucky offers extended hours of operation six days a week. The parts and service departments open are open Monday through Friday 7 a.m. to 7 p.m. and Saturday 7 a.m. to 3 p.m. Truck salespeople are available Monday through Friday 8 a.m. to 6 p.m. and Saturday 8 a.m. to 12 p.m., the company ays.
A grand opening customer open house event is planned for Sept. 8, 2017, followed by a week-long celebration to also recognize National Truck Driver Appreciation Week, the company says.