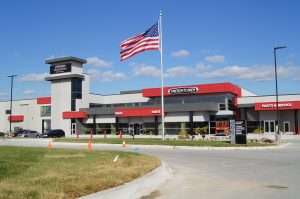 The Omaha-based Freightliner dealer's new facility has been under construction since fall 2016 and opens its doors to customers today.
The new facility brings two Omaha dealerships, the body shop, training facility and corporate headquarters together in one location. At 180,000 sq.-ft., it includes 60 service bays, the full-service body shop, six-bay training center and a 34,000 sq.-ft. parts warehouse that uses an automated retrieval system to fetch parts.
"We designed this new facility with the customer in mind. It's equipped with everything our expert technicians need to get drivers back on the road in record time," says Trey Mytty, Truck Center Companies president and CEO.
"That means loads get delivered more quickly and drivers worry less about getting home to their families on time. We're excited about the new features and efficient service we'll be able to offer. Our dedication to our customers will be evident in every inch of our new dealership.
"Customer comfort was a major focus when creating the new dealership. Drivers will have full access to ultra-convenient amenities to make their repair a breeze. Conveniences such as a three-screen theatre, arcade, laundry facilities, a pet-friendly area and much more, are sure to make our facility the first choice in service for both drivers and fleets."