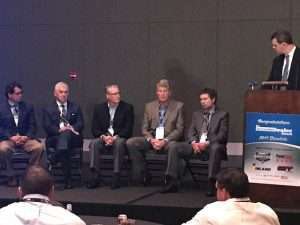 During a panel comprised of the five Successful Dealer Award finalists Thursday at the Great American Trucking Show in Dallas, dealer leaders said they are seeing an uptick in business in 2017 and expressed hopes that will continue.
"We sell to a couple of large fleets, and in the past, they would begin trimming back, but right now we are seeing strong orders from the fleets," said Rick Reynolds, owner of Peach State Truck Center.
The group discussed several topics, good and bad, that the sales industry is facing. But, Four Star Freightliner Dealer Principal Jerry Kocan said the franchise locations have positioned themselves well.
"Franchised dealers are the first ones to add technology, we are the first to train our people and we take care of our customers with that. That's a huge competitive advantage," Kocan said.
Paul Burk, vice president of Doggett Freightliner, said that meeting customer's needs quickly is more important now than ever before.
"We are always looking to get our customers in and out. The quicker we get them out, the better it is for that fleet owner and customer," he said.
The panelists all agreed that finding, training and keeping technicians remains an issue. But, they all echoed the sentiment that younger techs entering the field seem to embrace the advances in technology being used in the shops.
"We want to stay ahead of training. It's an investment, but it's one that pays off. You can get a customer for life, or at least for the year," Kocan joked.
"There is a computer in every bay. It is not the old days when a greasy tech is under the truck.
These technicians now are ready for it."
Reynolds agreed.
"The technology is getting to where it makes the techs more comfortable and they enjoy it," he said.
CIT Trucks President Erick Miner said implementations in the shops prepare the newest generation of techs for what they need to service customers.
"They know they are coming into a modern shop and they really desire it," he said.
Finding those techs and keeping them is another issue.
"We have full time recruiters in the high schools and tech schools. It is a bit different mindset with the younger guys," he said. "We fight turnover more than we would like. If you are recruiting, you can find some guys, the question is if you can keep them. It is a lucrative career if that's the path they desire."
"This generation is a little different," Kocan said.
"They told us to shut up, keep your head down and keep working. Today, these kids want to see what the end game is. Every time they get a certification we give them something. We want to reinforce them with something positive."
Burk said the industry, as a whole, needs to do a better of job selling itself to the incoming workforce.
"As an industry, we need to do better as a whole selling our industry," he said. "The opportunities are there for good technicians willing to work. It is a very lucrative industry."
Reynolds said that's not always easy.
"No matter how good we sell it, we have a smaller group to preach to. People today are just not interested like they used to be," Reynolds said.
The group also stressed the importance of using the latest marketing tools such as social media, but said the one key remains the same as always in the past.
"It's still a relationship business," Burk said. "Everyone needs to have a relationship. I go out and see customers every week. I want them to know everyone at that customer's location."
Kocan said working with your own staff is as equally important.
"Building a strong culture comes down to your employees. Talk to them, communicate with them, let them know we want to hear their ideas and we are interested in their development," he said.