The following comes from the August 2016 issue of Truck Parts & Service. To read a digital version of the magazine, please click the image below.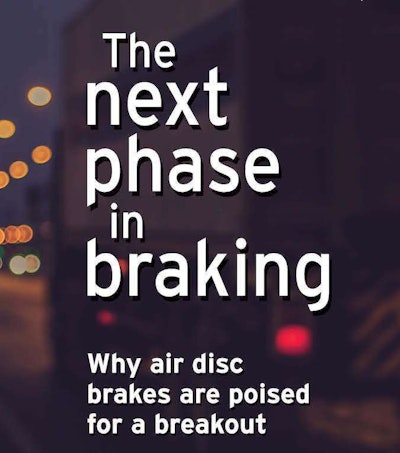 Technology in the North American trucking industry is typically adopted in three phases.
First are the early adopters, customers who embrace new technology because of potential benefits they see for their businesses. Typically these are large fleets; businesses with enough capital to commit to unproven technology because of potential long-term gains. And businesses that, more often than not, can afford to withstand a mistake if a new technology adoption doesn't payback as anticipated.
After early adopters confirm the validity of a technology the second phase begins.
This is commonly known as the period of mass introduction. Once the big fleets determine it's safe to wade out into the water, it doesn't take long for everyone else to start joining them.
One product in particular that is teetering on that tipping point is air disc brakes.
With industry-wide adoption rates currently between 10 to 15 percent and growing, air disc brakes are steadily moving from an early adoption phase to a period of mass introduction. And for a technology as tested and proven as air disc brakes, manufacturers say once the industry reaches phase two, phase three — acceptance — isn't far away.
"I think the model for us to use is what we see in Europe today. The majority of that market has moved to air disc brakes and there is potential for North America to do the same," says Paul Chappell, product manager, automatic brake adjusters and air disc brakes, North America at Haldex. "For us, it's not so much a case of if we'll see them accepted, it's more a case of will they be accepted quickly."
As for why, manufacturers say that answer is obvious. Disc brakes stop a truck faster and with more control than drum brakes.
"Air disc brakes have incredible stopping power, and have been proven to be able to stop a truck faster [than drums] when both loaded and unloaded," says Jay Urban, product manager, air disc brakes at Meritor.
There's really "no comparison" for heavy braking application vehicles, adds Jon Morrison, president, Americas at WABCO. "Air disc brakes are regularly able to provide significant reductions in stopping distance over drum brake configurations."
The reduction comes from the system design.
Unlike drum brakes, which initiate a braking event by rotating an s-cam to move a brake shoe lined with friction material outward, disc brakes work almost in the inverse, clamping friction-lined brake pads around on a rotor to slow a wheel end.
Status quo in the automotive industry for decades, disc brake systems can use hydraulic or air pressure to force a brake pad inward and initiate a stop. The auto- motive industry prefers the former, while the commercial vehicle market is partial to the latter.
The system's benefits are extensive. One major advantage is the simple openness of a disc brake system. Disc brakes don't operate within a closed environment like drum brakes, allowing for more natural air flow during a braking event to dissipate heat.
This eliminates brake fade, the phenomena that occurs when the extreme heat created during a drum brake stopping event causes the surfaces of the drum and brake shoe to expand, and weakens the contact between both surfaces.
The clamping motion of the disc brake is beneficial here as well. Once engaged, a disc brake works similar to pliers or any other clamping tool. As more force is applied behind each pad the clamping power of the entire system increases.
It is that ability to maintain a tight grip on a rotor that allows the system to reduce stopping distances, says Morrison.
Bill Hicks, director of Product Planning – Americas at SAF-Holland, says most air disc brake systems have the ability to not only "meet but exceed" reduced stopping distance (RSD) requirements set by the National Highway Transportation Safety Administration (NHTSA) in 2012.
And unlike drum brakes, which moved to larger shoes and/or more aggressive friction material to meet the NHTSA standard, Hicks says air disc brakes have been exceeding those stopping distance requirements for many years.
"We're at a point now where both disc and drum brakes meet the mandate very comfortably, but it was never really a problem for disc brakes," adds Dennis Griffin, product manager, commercial vehicle friction at Abex, a Federal-Mogul Motorparts brand.
Disc brakes also operate much quieter — partially because they didn't require such wholesale changes to remain viable under RSD regulations, says Keith McComsey, director of marketing and customer solutions, wheel end at Bendix Spicer Foundation Brake.
"For manufacturers to meet the RSD requirements for drum brakes they had to be much more aggressive [with their friction material] and that aggressiveness has created brake noise," he says. "Air disc brakes don't have that."
And if that's not enough, disc brakes also offer benefits in the service bay, with both longer life cycles for replacement parts (brake pads and rotors) and easier service procedures.
"Some people believe when they go to air disc brakes that they won't have [to do] maintenance anymore. That's not true," says Chappell. "The maintenance is less common but it's still required."
McComsey notes that with longer air disc brake pad life, a fleet turning over new trucks every 3 to 4 years "might not even need to touch replacement pads," and that wearable components on an air disc brake tend to last "anywhere from 1.5 to 2 times the life" of comparable drum brake parts.
Fortunately it's a pretty easy repair, Chappell says.
"Basically you just remove the wheel, and in our case we have a boltless pad retention method. So you take the old pads out and put in new ones and away you go," he says.
"It takes less than half the time" as a drum brake shoe replacement, Urban adds.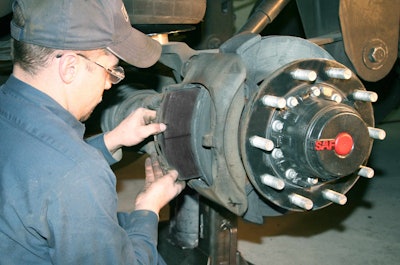 Hicks agrees, and says even technicians previously unfamiliar with disc brakes can usually master the routine in just a few tries.
"Once they change one or two they immediately realize how quickly and easily it can be done" he says.
The system's only downside, expectedly, is price.
Because of their superior performance air disc brakes command a premium price, and until fairly recently, most fleets have been unwilling to invest in the technology.
But the tide is starting to turn.
Fleets engaged in high duty cycles for braking such as urban delivery fleets, waste disposal services and public transit companies were the first to accept the technology and are now making it standard. Regional and long haul fleets, spurred negative impacts the RSD mandate had on drum brakes — more brake noise, additional weight, etc. — also are looking at disc brakes as a viable alternative.
The long-term benefits of air disc brake systems are finally beginning to outweigh upfront cost differences, Hicks says.
"You think about these fleets who keep trailers 7 to 10 years. With disc brakes, you can give them a superior braking system that they may need to service just once during that trailer's life," he says. "Once you start looking at ROI, [air disc brakes] can be a really good long-term decision."
And every time a fleet commits to the system, it only helps to make it more affordable for the next adopter, Morrison says.
"I think there is a legitimate expectation for fleets that they will see costs improve with volume and improved design," he says. "We have a path that can get payback to less than two years."
The industry-wide focus on safety is helping drive adoption as well.
"I think a lot of the value becomes safety as well as uptime," says Michael Konrad, sales and marketing manager at Bremskerl North America, which produces friction material for disc and drum brake systems. "Increasingly we are finding that fleets are looking more at safety and how they can extend pad and rotor life; considering the entire life cycle cost when purchasing replacement products such as air disc brake pads."
"Drivers seem to prefer them over drums," Chappell adds. "They feel more comfortable with them, especially in high braking situations."
Which means adoption rates are sure to rise. And probably fast, manufacturers say.
"We have 100 percent certainty that it will rise," says Urban. "How far can it go? I think within 10 to 15 years we could see half the trucks on the road using air disc brakes."
Konrad agrees, and says it's not impossible that adoption rates could grow 10 percent year-over-year for the foreseeable future. The technology is good enough to justify the boom.
The aftermarket will need to adjust accordingly.
Manufacturers are doing their part to aid in the transition through online and onsite training. In addition to general system functionality and part identification training, manufacturers also note their early training has focused heavily on the importance of identical component replacement.
McComsey says replacing an OE part number with an inferior aftermarket product can "diminish those qualities that customers expect from an air disc brake system."
Griffin agrees, adding "you don't want to ever willfully take something designed to stop at one distance and then make it stop at another [longer] distance."
Other aftermarket changes will be more minor — training technicians, stocking rotors and other new disc brake- specific components — but still required.
Ultimately it will be the transition away from remanufacturing, rebuilding and relining older drum brake shoes that could make the largest impact on the independent aftermarket. As disc brake numbers rise, the need for those products could fall dramatically.
Brake manufacturers are in consensus that drum brakes will never disappear, but it's clear now that their days as the dominant braking system in North American heavy-duty trucks are numbered.
"When it comes down to it this is the right thing to do," Hicks says. "[Disc brakes] are the better braking system.
"It's better for my family, it's better for your family. It's better for everyone that these systems are out on the road."