The following comes from the September 2016 issue of Truck Parts & Service. To read a digital version of the magazine, please click the image below.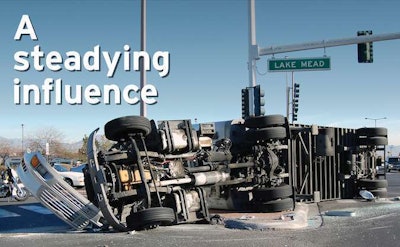 In less than a year the National Highway Traffic Safety Administration (NHTSA) will begin its rollout of Federal Motor Vehicle Safety Standard No. 136, a crash-avoidance mandate requiring electronic stability control (ESC) systems on new tractors and buses with a gross vehicle weight rating (GVWR) of greater than 26,000 lbs.
The standard, which was first introduced as a proposed rule in 2012 and was finalized on June 23 last year, is the latest in a string of regulations introduced by NHTSA and the Department of Transportation (DOT) in an effort to improve the performance and safety of America's medium- and heavy-duty truck and bus fleet.
In the aftermarket, where such regulations don't debut so much as trickle in over time, the ESC mandate is likely still a few years away.
But with manufacturers and vehicle owners in the home stretch preparing for the new rules, it's time the aftermarket was brought up to speed on stability control, and the impact it is likely to have on the trucking industry.
Two types of stability control are prevalent in the North American trucking market today: roll stability control (RSC) and electronic stability control.
In its final rule, NHTSA defines the two systems as follows: "A roll stability control system is designed to prevent rollover by decelerating the vehicle using braking and engine torque control. The other type of stability control system is ESC, which includes all of the functions of an RSC system plus the ability to mitigate severe oversteer or understeer conditions by automatically applying brake force at selected wheel-ends to help maintain directional control of a vehicle."
Both are readily available in today's marketplace, but in writing its final rule, NHTSA explicitly chose ESC over RSC as the required technology for future equipment.
"[NHTSA] considered requiring truck tractors and large buses to be equipped with RSC systems," the agency wrote at the time. "When compared to the ESC requirement in today's final rule, RSC systems would cost less than ESC systems, be slightly more cost-effective, but would produce net benefits that are much lower than the net benefits from this final rule."
Safety was cited as the deciding factor.
"We believe that by requiring that ESC systems be installed on the rest of truck tractors and large buses, this final rule will prevent 40 to 56 percent of untripped rollover crashes and 14 percent of loss-of-control crashes," NHTSA said. "We expect that this final rule will prevent 1,424 to 1,759 crashes, 505 to 649 injuries, and 40 to 49 fatalities at $0.1 to $0.6 million net cost per equivalent life saved."
This distinction is important, because while RSC and ESC are both mature technologies, they're still predominately options. In its final rule NHTSA estimated only "34 percent of new truck tractors and 80 percent of new buses" would be equipped with ESC systems in 2018 if the systems remained elective.
By committing to ESC, NHTSA has removed customers' right to choose.
In most cases that can be problematic, if not devastating, for customers. This does not appear to be one of those cases.
"To an extent NHTSA did this regulation right. They didn't rush a technology that wasn't ready," says Fred Andersky, director, Customer Solutions – Controls, and director, Government and Industry Affairs at Bendix Commercial Vehicle Systems. "They took their time, researched their options and made the decision to go with electronic stability control.
"[ESC] can help with more situations that can end up being rollovers."
As far as government regulations go, FMVSS 136 is impressively straightforward.
The rule applies to all new three-axle truck tractors weighing more than 26,000 lbs. GVWR manufactured on or after Aug. 1, 2017, and all other truck tractors, including two-axle tractors, in 2019. The rule also is applicable to buses weighing more than 33,000 lbs. GVWR in 2018, and buses weighing between 26,000 and 33,000 lbs. GVWR in 2019. This distinction includes motor coaches. Straight trucks are not included in the mandate.
Andersky commends NHTSA for targeting tractors instead of trailers. Though the latter may be what people think of when they envision a rollover, "rollovers and loss of control start at the front of a vehicle," he says.
"The head of the snake always knows what the tail is doing. By having the system on the tractor we can read [potential rollover data] earlier and react sooner than a trailer-only system. It allows for a faster intervention to prevent the rollover."
Michael Lambie, marketing department manager at Meritor WABCO, says ESC technology "builds upon the current 'self-learning' capability whereby the system is designed to automatically monitor and adapt to changes in vehicle characteristics and wear without the need to reprogram a separate electronic control unit (ECU)."
At the OEM level, North American truck makers are well on their way to integrating ESC systems into future truck models.
Freightliner has offered Meritor WABCO's stability systems for nearly a decade, says Keith Harrington, manager, product strategy at Daimler Trucks North America (DTNA).
Though RSC has long been the more popular option due to its lower cost, Harrington says most customers understand and accept the reasoning behind the ESC-centric mandate.
And because the systems are both well developed and about to grow rapidly in production rates, Harrington says DTNA is confident that the additional upfront cost will quickly be absorbed by truck buyers.
He references the highly publicized June 2014 accident where a Wal-Mart driver collided with a limousine, killing one and injuring comedian Tracy Morgan and two others.
"We saw a real spike in the interest of safety systems after that," he says. "It's one thing for us to design a truck and protect the driver but the best truck is the one that avoids an accident in the first place."
He adds, "People are accepting. They are starting to see safety systems as where they need to spend their money."
Freightliner is making the ESC system standard with MY 2017 trucks, far ahead of next year's August 1 deadline.
Both Bendix and Meritor WABCO have enhanced production capabilities of their ESC systems to meet the demand boom, and are working to train OEMs, dealers and fleets on the functionality and requirements of the systems.
For the most part, electronic stability control is a maintenance and service-free system.
Andersky likens the product to other electronic systems found in vehicles, such as a radio. So long as the components used by the system are well maintained—in ESC's case, that means tires, brakes, ABS sensors, etc.—the system will do its job when called upon.
"You don't replace your stereo every year," he says.
"As it is with a lot of electronic systems it's either going to work or not right off the bat," adds Harrington. "So once it's on there and working it's going to go."
In the aftermarket that won't lead to many new part sales, but that doesn't mean the system can be ignored, either.
ESC systems are susceptible to damage from roadside debris and accidents—"the system cannot prevent tripped rollovers caused by hitting a curb, sliding into a ditch or traveling on a very soft shoulder," Lambie says—and also can be negatively impacted by improper service on other components.
Andersky notes alignments, frame service and other front work as services that may require recalibration of key ESC sensors—done using free diagnostic software from Bendix.
"If you do a front-end alignment, you need to recalibrate the steer angle sensor. If you move the sensor on the frame rail, you need to put it back in the same spot with the same orientation and recalibrate," Andersky says. "Recalibration is easy with our free, downloadable ACOM software."
Lambie agrees, and says proper "diagnostics software is needed to calibrate or diagnose the system" during a service event.
And this level of caution will become increasingly more important in the future, as more tech-based safety systems are introduced and adopted for Class 8 trucks. Just like stability control was built upon existing ABS technology, Harrington says it's likely ESC will be used as a building block for even more safety systems. Some of which may not even be mandated.
"NHTSA is starting to encourage OEMs to voluntarily make [safety systems] standard" because building regulations takes too long, he says.
In either case, experts are confident the enhancements will be accepted by the industry. Safety is an end game everyone can agree on, Harrington says.
"The industry has shown no pushback [regarding ESC]," he says. "Everyone seems to recognize the value of safety."
There are other tangible benefits as well, Lambie says.
"The technology advancements with self-learning will save manufacturers time and cost in the validation and application process, dealers save inventory costs due to fewer parts to stock, and fleets reduce downtime due to more likely availability of parts at the dealer for a part replacement or the elimination of the need to reprogram the ECU every time the fleet has a truck and/or trailer configuration change."