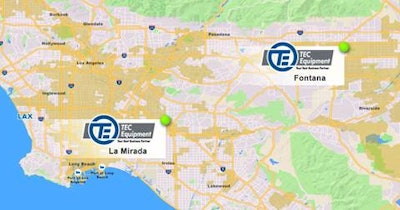 Volvo and Mack dealer TEC Equipment continues to support trucking fleets with its electromobility transition as its La Mirada branch in Southern California becomes its second location to achieve the Volvo Trucks Electric Vehicle (EV) Certified Dealer designation. The dealership also earned the certification from Mack Trucks.
In August 2021, TEC Equipment's Fontana, Calif., location became the first in North America to complete the training and equipment installation requirements needed to achieve Volvo Trucks and Mack EV Certified Dealer status. TEC Equipment's two Southern California dealerships are well located to service fleet operators involved in local and regional goods movement, particularly around the ports — an ideal application for the Volvo VNR Electric Class 8 model. The dealer also is certified to support the Mack LR Electric refuse vehicle, the company says.
"Volvo Trucks applauds the ongoing leadership of the TEC Equipment team, which began meeting requirements for certification of its dealerships in late 2019 through the Volvo LIGHTS project, before Volvo's certification program was even fully developed," says Peter Voorhoeve, president, Volvo Trucks North America. "Effective partnerships are the key to achieving widescale transportation electrification, and TEC Equipment continues to demonstrate the value of their innovative mindset and dedication to building the necessary sales and service ecosystem."
Several members of the maintenance and repair crew at TEC Equipment's Fontana and La Mirada dealerships are now fully trained and equipped to meet the service needs of fleets operating Volvo VNR and Mack LR electrics. TEC Equipment La Mirada has installed equipment for two dedicated EV service bays, and two of its technicians have completed the required training to service electric drivetrains and components.
"Mack Trucks is pleased that TEC Equipment achieved Certified Electric Vehicle Dealer status at La Mirada and Fontana, exemplifying their dedication to electrification and being prepared for the service and support needs of Mack LR Electric customers. The investment made by TEC helps our customers with the unique demands of electric vehicles as they move toward adopting them into their fleets," says Jonathan Randall, Mack Trucks senior vice president of sales and commercial operations.
"TEC Equipment didn't want to wait for EVs to gradually catch on before making a move; we wanted to be at the forefront with our customers and help lead the transition," said David Thompson, founder and CEO of TEC Equipment. "Our La Mirada and Fontana dealerships are ideally located to support Southern California's large freight transport industry in deploying zero-tailpipe emission trucks. We look forward to continuing to expand our expertise to our other dealerships on the West Coast through Volvo Trucks EV Certified Dealership training programs."