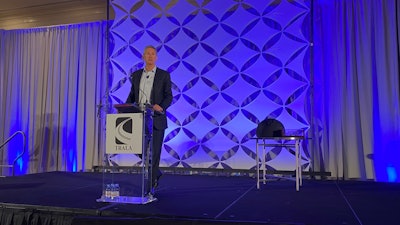 If you haven't noticed, the first quarter was a busy one at Cummins.
The news started in January, when the company announcing it had finalized a 50 percent acquisition of Momentum Fuel Technologies and partnered with Isuzu to develop an electric truck prototype. More partnerships followed in February when Cummins announced its intent to acquire Jacobs Vehicle Systems and Meritor. Cummins also launched its revolutionary fuel agnostic engine systems in February — a landmark step toward reducing carbon emissions in the commercial trucking industry.
That focus on reducing carbon emissions also took center stage Tuesday at the 2022 Truck Renting and Leasing Association (TRALA) Annual Meeting in Aventura, Fla., where Cummins' Chairman and CEO Tom Linebarger detailed how the 103-year-old Indiana company intends to do its part to bring carbon emissions in the trucking industry to zero by 2050. Dubbed 'Destination Zero,' Linebarger says Cummins' strategy to eliminate carbon emissions isn't just motivated by meeting government regulations or shipper demands, it's fundamentally essential for the environment.
Rising carbon emissions are a problem, and Linebarger says the longer society waits to accept that, the harder it will be for people to solve. "We're putting CO2 into the air today that is making our solution tomorrow harder," he says. "We need to get to zero."
So, how will trucking get there? Linebarger says he honestly doesn't know. It could be batteries and electrification. It could be hydrogen fuel cells. It could a hybrid or new solution that's not even in development. But Linebarger knows developing solutions for 2050 can't wait until 2045.
[RELATED: How leasing companies are responding to increased customer demand]
"Our view is this problem is not going to be solved quickly," he says. And, as evidenced by the above partnerships, Cummins is investing in every potential solution because it doesn't know what the answer will be, but it wants to be positioned to scale up quickly when a long-term solution eventually makes itself visible.
"If I knew what the answer is I wouldn't be investing in those other ones," Linebarger jokes.
In the short term, Linebarger says Cummins is focused on the rollout of its fuel-agnostic engine line to start reducing emissions now. He says the company's top priority with every product it releases is not only to reduce emissions but also to develop a product that customers will willingly buy. And that's important, because without government driving acceptance through carbon taxes or subsidies, Linebarger says there's no motivation for motor carriers to invest in reducing their carbon footprint at all. Running and maintaining existing diesel engines remains the most affordable way to run a fleet, even if isn't the best decisions for future generations. And Linebarger says that latter motivates Cummins too. He mentions his own daughters on that point.
"If I retired and I didn't do anything I could while I have this position [to reduce emissions] … I don't know if I could look at them with a straight face," he says.
And the good news is transportation is making great strides. He says the automotive industry has made tremendous progress with battery technology and he believes electric vehicle adoption is the future in that market. Development of fuel cell and battery technology among commercial trucking OEMs also have improved dramatically over the last decade. Linebarger says Federal and California policy makers also are considering regulations that will make diesel engines with non-renewable fuels non-viable for commercial transportation by 2027, but likely 2030.
As he looks ahead, Linebarger says his biggest concerns are infrastructure development and political gridlock. He believes truck engine technology will hit zero emission capabilities by 2050 (if not well before). But will the country be ready to accept and use this equipment? Linebarger says Cummins hopes the answer is yes.
"The question is grid. The technologists cannot solve this issue alone," he says. "You need infrastructure and if those things aren't available this isn't viable."
Linebarger says government support on the latter would go a long way — presuming of course both political parties want to solve the issue at hand. Linebarger says he's spent a lot of time in Washington in recent years urging for cooperation from political leaders and says far too often his requests fall on deaf eyes.
"We've created an environment where standing up and yelling at the other side gets more votes than solving problems," he says. "We, as people who are trying to actually solve problems, we need to do everything we can do to tell them that we're bored by it. What we want is problems solved."