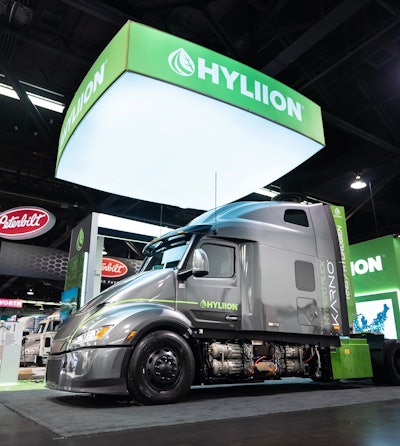 Hyliion
While OEMs contend that liquid and gaseous fuels will continue to play an important role in decarbonization for years ahead, picking winners is anything but easy.
That's where Hyliion says its Hypertruck Karno can help.
The fuel agnostic generator was displayed for the first time Wednesday at the Advanced Clean Transportation Expo in Anaheim, California. It was also mounted close by inside the hybrid Hyliion Karno, a Class 8 long haul truck advertised to run on hydrogen or renewable natural gas.
Capable of running on more than 20 fuels, Karno is probably unlike any generator you've ever seen. Its long, cylindrical-like shape does not make it a candidate for conventional engine bay installation. Instead, Hyliion has mounted four Karno generators along the truck's frame rail.
"These four linear generators on the truck can produce about 200 kilowatts of power as they're running," Hyliion CEO and founder Thomas Healy said. "The generators sit in there constantly just charging up the batteries as you're going down the road."
Karno does not require any mechanical changes when switching fuels.
"The generator really doesn't care what fuel it's running on unlike some of the other fuel agnostic solutions where you have a platform and if you want to run it on hydrogen you have to spec it this way and if you want to run it on nat gas, it's a little bit different," Healy said. "This generator can from one second to the next switch what fuel it's actually running on."
Hyliion acquired Karno from GE last year. Josh Mook, the chief engineer responsible for Karno system development, was on hand at Hyliion's presentation to explain more about the generator.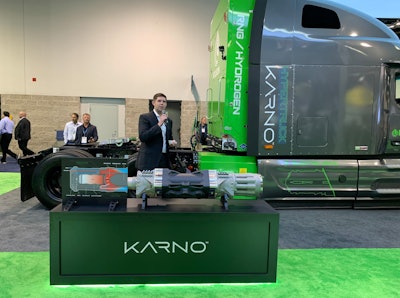 "The main reason this system differs from most traditional systems that you're used to is that this is a heat engine. The actual input to the system is heat," Mook said "It just so happens that one of those convenient ways to create heat, especially onboard a vehicle, is to take fuels and oxidize them to release those chemical bonds and create that heat."
That heat is then routed to complex heat exchangers which capture up to 95% of the heat and introduce it to the cylinder where it expands trapped gas that in turn moves a piston.
"As that piston translates inside, there are actually permanent magnets that are going through a series of coils to create that electricity directly," Mook said.
The engine requires no oil, no maintenance and is orientation agnostic. It's designed to run for a million miles prior to needing an overhaul.
Hyliion has been testing the truck, which so far has proven impressive when compared to a conventional diesel truck.
"It's about a 20% operating cost reduction generally due to the increased efficiencies," Mook said. "You also have the fuel flexibility, which is hard to quantify, like for each fleet that means something different. And then obviously you have no maintenance cost. There's no oil changes, no planned maintenance. It just wants to sit there and wants to run and produce power quite happily and quite quietly."
Hyliion Karno's emissions profiles has also been impressive.
"If you finally flip to the regulatory side, without any after treatment system, we're meeting all the future anticipated regulatory requirements – even on natural gas," Mook said. "We believe that gives fleets a lot of protection going forward as we think about changing regulatory environments."
In addition to unveiling Karno, Healy said that Hypertruck ERX is on track to enter production later this year and will qualify for 100% of California's Advanced Clean Fleet credit.
"It's a huge win there as fleets are looking to actually comply with the ACF mandates," Healy said. "They can not only adopt a BEV solution, a fuel cell solution, but now they can also adopt the Hypertruck ERX and qualify for a hundred percent credit."