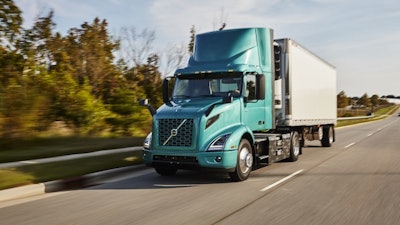 Volvo Trucks North America made news at this week's Advanced Clean Transportation (ACT) Expo in Long Beach, Calif., announcing updates to its Volvo Blue service contract and adding even more dealer locations to its Certified EV Dealer Network.
Volvo Blue is the company's dealer managed service plan, introduced earlier this year to help fleet customers continue to boost uptime and efficiency. Since first launching the Volvo Blue service contract, Volvo Trucks has onboarded and certified 37 dealer locations across the U.S., with an additional seven locations coming online in the near future.
Across the U.S., 37 dealer locations from eight dealer management groups have been trained to sell and support the Volvo Blue service contract components. An additional seven locations are near onboarding completion this year.
Bergey's Truck Center – 14 locations in Pennsylvania, New Jersey, Delaware, and Maryland
Nextran Truck Centers – 9 locations in Missouri, Kansas, Alabama, and Florida
Bruckner's Truck & Equipment – 5 locations in Texas and Oklahoma
Tri-State Truck Center – 5 locations Arkansas, Mississippi, Missouri, and Tennessee
Affinity Truck Center – 1 location in California
GATR Truck Center – 1 location in Iowa
McMahon Truck Centers – 1 location in Ohio
Vanguard Truck Centers – 1 location in Texas
"As trucks become more technologically advanced and the value of uptime continues to increase exponentially, fleets are recognizing the value of having a dedicated, Volvo Trucks fleet manager at their local dealership to provide intelligent, data driven maintenance, on a schedule which maximizes uptime through minimizing visits to the shop," says Peter Voorhoeve, president, Volvo Trucks North America.
"With a dedicated fleet manager overseeing the vehicle health, available software updates and scheduled maintenance, owner operators and fleets can focus on growing their business without having to dedicate time and resources to keeping up with maintenance records and running the risk of over or under maintaining their trucks, adding uptime and value to their bottom line."
[RELATED: Class 8 orders plummeted in April]
"Customers who opt-in to the Volvo Blue service contract experience greater truck uptime than they've had before by reducing the number of oil changes and breakdowns with Volvo Trucks' optimized service plan," adds Mike Furst, director, contract services & leasing technology solutions, Volvo Trucks North America. "We also have the capability to diagnose and repair some powertrain related issues through remote software updates and proactively identify existing or upcoming issues through an extended 74-point inspection plan at any of our nearly 40 Volvo certified dealer partners nationwide."
EV Dealer Network Growing
Volvo Trucks also announces it has tripled the number of Certified Electric Vehicle (EV) Dealerships in North America, growing from 12 locations in May 2022 to 36 locations in 19 states in May 2023 with an additional 56 locations in process.
Volvo says its Certified EV Dealerships comprise a key cornerstone in the Volvo Trucks electromobility ecosystem, which is on display during ACT Expo. To date, Volvo Trucks has delivered 251 VNR Electric trucks from the New River Valley Plant in Dublin, Va., and continues to lead the shift toward decarbonized freight transportation.
The Volvo Trucks Certified EV Dealership program was designed to ensure the robust sales and service ecosystem required to support customers with the commercial deployment of Class 8 battery-electric trucks. The company says dealership support is critical to the successful adoption of battery-electric trucks and Volvo Trucks is pleased to announce the successful EV certification of these new dealerships:
Bergey's Truck Center – New Castle, Delaware
Bruckner Truck Sales – Tulsa, Oklahoma
Burr Truck & Trailer Sales – Vestal, New York
Nextran Truck Center – Fultondale, Alabama; Lake City, Florida; and Tampa, Florida
Western Truck Center – West Sacramento, California
"Volvo Trucks is proud to be leading the deployment of Class 8 battery-electric trucks across North America, but we are even more proud to have been the first OEM to understand the need to create a robust and total ecosystem of support for Class 8 battery-electric trucks," Voorhoeve says. "Our dealer partners have invested in the zero-emission future with us because they understand the future is here today.
"Battery-electric trucks are on the road and scaling — and we have the experience and expertise to guide fleets through successfully adopting the Volvo VNR Electric into their operations to make a real impact on decarbonization."