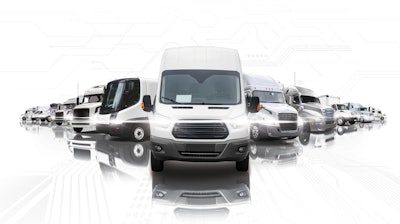 Aperia Technologies Monday announced an expansion of its Halo Connect predictive tire maintenance platform to last-mile vehicles. Halo Connect is now the industry's only predictive tire maintenance platform for heavy-, medium-, and light-duty commercial vehicle applications.
"Tire health remains critical to the safe and efficient operation of vehicles spanning all mobility segments," says Judith Monte, vice president of marketing and customer experience at Aperia Technologies. "The Halo Connect tire maintenance platform leapfrogs existing available technologies, and its expansion into delivery vans now enables our clients to put all tires under management with a single platform, regardless of vehicle class."
Halo Connect for last-mile applications enables fleets to virtually eliminate unplanned tire-related downtime and reduce tire costs per mile, Aperia says, resulting in increased on-time deliveries. Its proprietary tire analytics engine uses machine learning to characterize the many interrelated and competing variables that affect and inform tire-related maintenance and operational decisions, the company adds.
"Alternate technologies commonly overwhelm fleets with false warnings and incomplete information," says Monte. "With Halo Connect, fleets receive accurate, time-bound maintenance recommendations that garner user trust and engagement."
Aperia recently announced one million tires under management with commercial vehicle tractor and trailer applications. The company's expansion onto last-mile applications will ensure this critical segment has access to best-in-class predictive tire maintenance analytics.