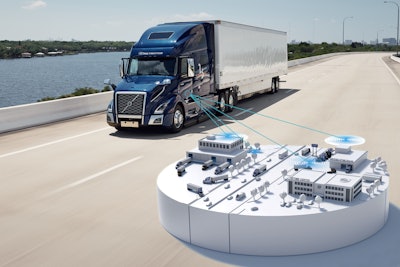 Volvo announced new maintenance plans at TMC in Orlando.
Volvo Blue is an adaptive, dealer-managed service plan that is paired with enhanced connectivity and covers all preventative maintenance. The service has been in soft launch for about a year, says Mike Furst, director of contract services and leasing technology solutions from Volvo. Now, it's available to all North American dealers.
[RELATED: Volvo announces new tool for dealers]
"This is all designed to prevent multiple stops at the dealership," Furst says. "This is all being done to boost uptime and stretching oil drain out based on real-time truck data."
Volvo Blue will use real-time data from the truck to schedule maintenance based on the actual needs of the vehicle. From a dealer perspective, it gives it time to schedule the bay, the technician and order the parts.
"The Volvo Blue service contract is an enabler for best-in-class uptime. This new form of premium, adaptive maintenance is managed by the local connected dealership, who is monitoring the truck's state-of-health and operations 24/7 by utilizing a suite of over-the-air services on-board the truck," says Peter Voorhoeve, president, Volvo Trucks North America. "This provides the dealership with vehicle data to dynamically tailor and schedule maintenance specifically to the truck's operations, needs and availability. Further it enables dealers to work with the fleets in a much more predictive way to proactively address emerging repairs and avoid unplanned stops."
Volvo Blue plans can run from 12 to 60 months, and are payable throughout the chosen contract period. Payments can be made through bank draft, through a preferred account or bundled in interest-free as part of a loan or lease through Volvo Financial Services. All of the data is sent over-the-air and service is done when it best suits the customer.
Customers will have access to remote diagnostics and programming throughout the duration of the contract.
New modules will also soon be available for remote programming, Volvo says. Later this year, truck owners will see downloads to enable programming for the instrument cluster, the vehicle ECU and the body builder module. Previously available modules were the engine, aftertreatment system and transmission.
"Having to bring a truck into a dealership or repair center to manage vehicle software updates can put fleets behind schedule or risk that updates are not done when necessary in order to prioritize transportation assignments," says Johan Agebrand, director, product marketing, at Volvo Trucks North America. "By doubling the remote programming software updates offered from three to six modules, drivers can conduct even more updates during their breaks or while waiting to load, optimizing their efficiency and productivity and continue to meet their promise to arrive at their destination as planned."