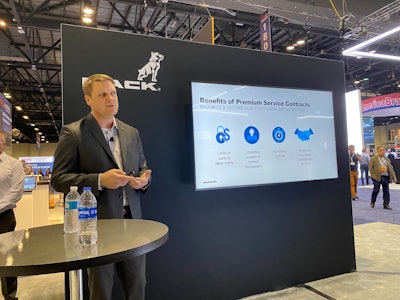 Mack Trucks showcased its next step toward improving customer uptime Tuesday at ATA's Technology & Maintenance Council (TMC) Annual Meeting and Expo in Orlando, introducing a comprehensive Mack Premium Service Contracts offering.
Patrick Brown, Mack Trucks services and solutions strategy manager, says the Premium Service Contract program will increase customer uptime and create a lower total cost of ownership over for truck owners.
Mack says its Premium Service Contracts offer dedicated maintenance management with a single point of contact at local dealers to manage the scheduling of maintenance; upfront parts and labor costs offering cost consistency; adaptive maintenance optimized based on each customer's unique operations allowing for improved vehicle health; and consistent repair and maintenance through Mack Certified Uptime Dealers.
[RELATED: Mack bolsters OTA update capabilities]
The result is improved vehicle uptime and reduced customer costs, improving the customer's total cost of ownership.
"Our customers can see real results from the Mack Premium Service Contracts, including the prevention of unplanned downtime events as a result of our 74-point inspection," Brown says. "This translates in time and money saved for the customer."
Eligible vehicles for the Premium Service Contract are those that are powered by Mack engines with fewer than 150,000 miles. Preventive maintenance, adaptive maintenance and fleet management by the dealer are included. Brown says four large Mack dealer groups are already offering the service and the rest of the Mack dealer network will roll out the solution this year.
The contracts are available for normal-duty applications in 100,000-mile increments, while Mack heavy-duty Premium Service Contracts are available in 50,000-mile increments.
"Premium Service Contracts help to ensure that maintenance is completed on-time and optimized for the customer's operation, software is up to date, open campaigns are completed on-time, and uptime is maximized," Brown says.