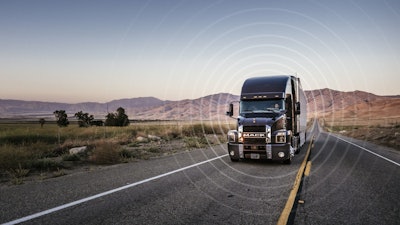 Mack Trucks announced Tuesday at ATA's Technology & Maintenance Council (TMC) Annual Meeting and Expo in Orlando another round of improvements to its over the air (OTA) updates for its Anthem, Pinnacle and Granite models. The announcement was one of two made by the truck OEM Tuesday during its TMC press conference.
Stu Russoli, Mack's senior highway product manager, says this enhancement is an expansion of the number of electronic control units (ECU) on Mack tractors that can receive and integrate OTA updates. Prior to this enhancement, Russoli says key powertrain ECUs were able to connect remotely to allow diagnostics and receive over the air parameter changes and updates.
But now, with the new configuration, the instrument cluster, vehicle ECU and body builder modules join the engine, transmission and aftertreatment control modules in their ability to be connected via Mack OTA technology, Russoli says.
"We are always looking for ways to help our customers maximize their uptime and improve their profitability," adds David Pardue, vice president of connected vehicle services for Mack Trucks. "The additional ECUs with OTA capabilities double the number of vehicle systems we can monitor and update."
[RELATED: Mack unveils Premium Service Contract program]
The additional control modules available for remote updates enhance the customers' ability to maximize uptime. Russoli says what once required an in-person visit to a service garage can now be done remotely to more ECUs and at a time most convenient for the customer..
"Mack OTA technology is constantly evolving to meet the demanding needs of our customers," Pardue says. "We set the standard when we launched the remote update capability, and this latest expansion puts us even further ahead with the number of vehicle optimizations possible through this service."
Russoli says Mack OTA updates are free for the first two years of ownership and can be extended by subscription after that period.