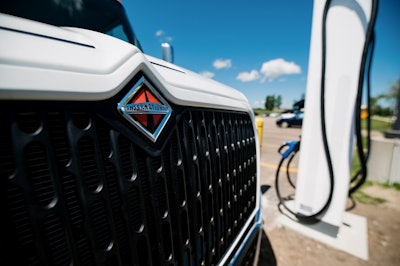 Navistar and Quanta Services will partner to create electric vehicle infrastructure.
"Our electric vehicles are only as strong as the grid that powers them," says Mathias Carlbaum, president and CEO of Navistar. "The differentiator of this partnership is Quanta's ability to complete site construction and utility work. This allows our team to offer the customer a one-stop-shop approach to all aspects of an EV transition."
[RELATED: Navistar launches integrated vocational powertrain]
Quanta is an infrastructure and energy transition solutions provider that also works on electric power grid solutions, providing engineering, construction and maintenance services, as well as power and infrastructure assessments for EV charging and related infrastructure.
"Quanta has enjoyed a longstanding relationship with Navistar as a key partner for medium- and heavy-duty trucks, and we look forward to expanding and enhancing our relationship through this innovative partnership," says Duke Austin, president and CEO of Quanta. "We believe this partnership is uniquely positioned to provide comprehensive EV solutions to Navistar's customers that support their fleet electrification initiatives and enable the transition to a clean energy future. Further, we believe this partnership will serve as a catalyst to achieve Quanta and Navistar's shared near-term goal of providing and building the safest medium- and heavy-duty trucks in the market using the latest technologies starting in 2024."
Trish Reed is Navistar's vice president of zero emissions. She calls Quanta "vital" to Navistar's EV solutions.
"This partnership ensures the long-term success of our customers with their power solutions by helping customers partner directly with utilities, assisting in power requirement analyses and sourcing responsible energy," she says.
[RELATED: EPA funding fuels electric school bus programs]
Navistar says it works with customers to establish an EV roadmap with scalable strategies that align with growth goals. It works to determine hardware solutions and charging depot locations for each fleet and uses connected technology such as OnCommand Connection to ensure the best use and optimal operation.