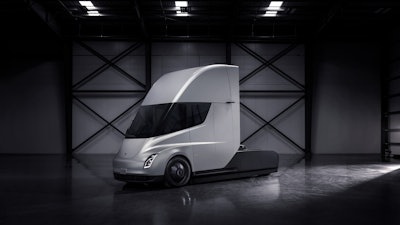 The wait for delivery of Tesla's long overdue Semi will soon be over… for Pepsi.
Tesla CEO Elon Musk Thursday night tweeted that production on his company's "500 mile range & super fun to drive" electric tractor would soon commence with "deliveries" set for December 1. PepsiCo ordered 100 Semis in December 2017, just weeks after the truck made its debut and told CCJ at that time it would deploy the trucks across its snacks and beverage businesses. Pepsi expected to get 15 Tesla Semis last year before production was delayed again as part of the drink and snack company's Near Zero-Emission Freight Facility Project in Modesto, California.
Tesla's not offered formal updates on Semi in years, so it is not known how many of the 100 will be delivered in December, if Pepsi still holds reservations for 100 units, or why Pepsi was selected to get the first batch of trucks when they were not the first carrier to place an order. Tesla doesn't have a media relations department, so TPS sister publication CCJ reached out to Musk directly via Twitter Thursday night. He did not reply as of Friday morning.
Musk offered no details last night on how the tractor achieves its purported 500 mile range, which is about twice that of Volvo's VNR Electric and Freightliner's eCascadia, two models that have been in customer hands for two and three years, respectively.
Semi was originally set for production in 2019, and that date has been delayed at least three times in the past three years as legacy OEMs like Paccar, Volvo, Mack and Freightliner place multiple electric trucks with fleet customers. BEV upstart Nikola has also built and delivered upwards of 50 models and targets to have 500 out by year end.