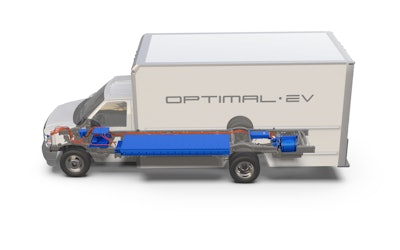 Optimal EV and Fontaine Modification Work Truck & EV Solutions introduced a repower solution that converts convention gas or diesel trucks and buses to electric power.
The Optimal EV E1-R is based on the Ford E-450 cutaway chassis and will be integrated into school buses, shuttle buses, delivery vans and other specialty vehicles by Fontaine.
"We are excited to offer our customers another option allowing them to participate in the clean teach revolution that's underway," says Jason Hughes from Optimal EV. "In fact, repowering existing vehicles is (a more green) solution that first-sale examples, as the carbon emitted in the vehicles manufacturing process has already been accounted for. Repower also immediate offsets previously invested sunk costs."
The E1-R powertrain will be available on 2018-2023 Ford E-450 cutaway chassis. It offers more than 125 miles of range and features Proterra 113kW batteries. All power electronics and cables are protected inside the vehicles frame rails.
"The Optimal EV system design is simple and clean, which allows for a robust and efficient integration," says David Brosky at Fontaine Modification. "We're looking forward to collaborating with the Optimal team to bring this repower solution to market."