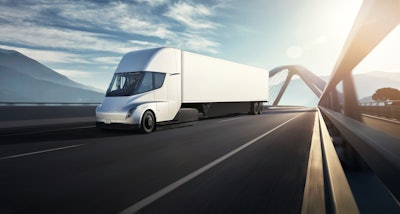 With initial delivery set for Thursday of an all-electric tractor that was originally due in 2019, Tesla CEO Elon Musk on Saturday tweeted that his long-awaited Tesla Semi Class 8 truck made a 500-mile trip while grossed to 81,000 lb. Electric trucks get a 2,000-lb. cargo weight exemption, allowing them to gross upwards of 82,000 lb.
Musk offered no additional details on the trip – like whether or not the truck stopped to charge along the way; how long the trip took, when it took place and in what part of the country; or how much of the 81,000 lb. is the truck itself.
Pepsi is set to take delivery of the first production Semis Dec. 1, and during the company's third-quarter earnings call, Musk announced Tesla would produce 50,000 Semis a year starting in 2024.