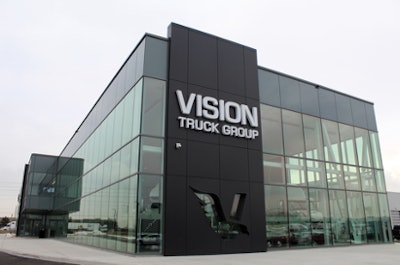 Vision Truck Group outside of Toronto, Ontario, Canada, is now a certified dealer for Mack and Volvo electric trucks.
"As a company, Vision Truck Group is dedicated to sustainability," says Travis Brown, vice president of product support. "The Brampton facility was designed to be safe, ergonomic and efficient. We are a paperless operation and our entire building is designed to minimize its impact on the environment."
Vision's Brampton dealership opened in 2019 and was designed to be a Certified Uptime Dealer. It has 88,000 sq.-ft.,for sales and service and a $5 million parts inventory. The service department has a separate check-in, check-out and billing counters as well as a drive-through check-in.
Team members from the sales team completed rigorous training with both companies, covering topics such as customer support, financial benefits of electrification and identifying ideal routes for electric trucks, the company says.
"Our dealership has conducted a series of successful EV demo events at our Brampton facility this year and received a lot of interest from customers involved in local goods movement," says Anthony Crombleholme, Vision vice president of sales and marketing.
Vision operates four other locations in Cambridge, Etobicoke, Stoney Creek and London, Ontario.
"As our business partners and brand ambassadors it's important our dealers are aligned with our electrification strategy. Vision Truck Group is a prime example of a forward-looking, customer-focused dealer that is paving the way for a sustainable future," says Jonathan Randall, president, Mack Trucks North America.
Adds Peter Voorhoeve, president, Volvo Trucks North America, "Vision Truck Group's Brampton facility is located near Highway 410, one of the area's busiest freight traffic corridors, making it a prime location to support fleets interested in deploying the Volvo VNR Electric Trucks for urban pickup and delivery."