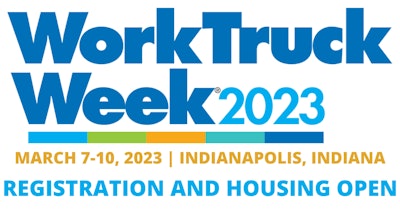 NTEA has added exclusive update sessions from five electric vehicle manufacturers to the Work Truck Week 2023 educational conference.
These EV sessions join the dozen OEM updates previously announced. During the sessions, manufacturer representatives will cover important technical information about their vehicle chassis, design and powertrains. NTEA also has released more information about the Special Session: Leadership Journeys – Highlighting Diverse Experiences.
"Our update sessions offer truck and body equipment manufacturers, installers and upfitters the opportunity to get the facts they need to support their end-user customers and manage their businesses," says Kevin Koester, NTEA managing director. "There are a lot of questions and concerns about how to upfit electric vehicles, and as North America's premier commercial vehicle event, Work Truck Week is an ideal venue to facilitate these conversations."
The EV update sessions will be held on Thursday, March 9. Participating manufacturers are Cenntro Automotive Corporation, Lion Electric, Lordstown Motors, VIA Motors Inc. and Xos Inc.
Work Truck Week will be held at the Indiana Convention Center in Indianapolis from March 7–10, 2023. It encompasses Green Truck Summit, The Work Truck Show, Ride & Drive, and more.
Other OEM update sessions begin Tuesday, March 7, and run through Thursday, March 9. Participating companies include Chevrolet Commercial Vehicles, Daimler Truck North America, Ford Pro, Freightliner Custom Chassis, Hino Trucks, International Truck, Isuzu Commercial Truck of America, Kenworth Truck Company, Mack Trucks, Mercedes-Benz USA, Peterbilt Motors Company and Ram Commercial.
In addition to the OEM updates, the Work Truck Week 2023 educational program includes a variety of targeted sessions where industry experts and thought leaders share strategies to help improve efficiency, implement best practices and grow operations. Concurrent sessions address market data and industry trends, vehicle engineering and compliance, government relations, advanced fuels and vehicle technology, workforce development and more, organizers say.
For more information, and to register, please go to the event website.