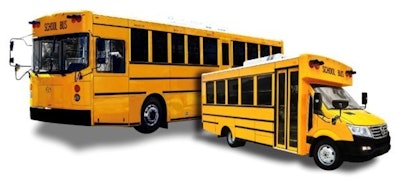 GreenPower Motor Company announces the appointment of Peterson Trucks as the dealer for GreenPower's BEAST Type D and Nano BEAST Type A all-electric school buses for the state of Oregon.
"Peterson brings 76 years of sales and service experience to this new relationship with GreenPower," says Michael Perez, GreenPower's vice president of School Bus, Contracts and Grants. "With five locations across the state of Oregon, we look forward to working with them to build on the current footprint GreenPower already enjoys in the state. Oregon operates nearly 4,900 school buses and GreenPower has already been quoting bus sales for several school districts. Peterson will be a key partner in GreenPower's development of this market."
As part of the dealership agreement, Peterson has placed an order for two Type D BEAST school buses to be used for demonstration purposes with school districts and officials.
"The Peterson team is excited about this new relationship with GreenPower and we plan to hit the ground running. The addition of GreenPower to our existing portfolio is a reflection of our commitment to this sector which we will continue to expand and support moving forward," says Rich Sanner, bus sales manager for Peterson. "The GreenPower BEAST and Nano BEAST are the preeminent purpose-built, all-electric, zero-emission Type A and D school buses on the market today and will quickly become the vehicle of choice as schools in Oregon migrate a higher percentage of their fleets to all-electric."
GreenPower already enjoys a significant presence in Oregon. Several of the company's EV Star models are deployed in Oregon operating as employee shuttles for a major global sporting goods corporation and in transportation needs for non-profits, the company says. Two of GreenPower's award-winning Type A Nano BEAST are currently in production for Portland Public Schools, the largest school district in the state of Oregon and additional BEAST school buses are in the final stages of the ordering process for other school districts.